New DDOT ConnectTen service to add 500 trips per week with 15-minute peak hour frequency, Wi-Fi
Ten most popular routes used by 60% of riders to be renumbered 1-10, starting September 1
All ConnectTen routes to feature 24/7 service, peak hour frequency of 15 minutes and WiFi on rebranded buses
DDOT to rebrand department wide, starting with ConnectTen, as improvements continue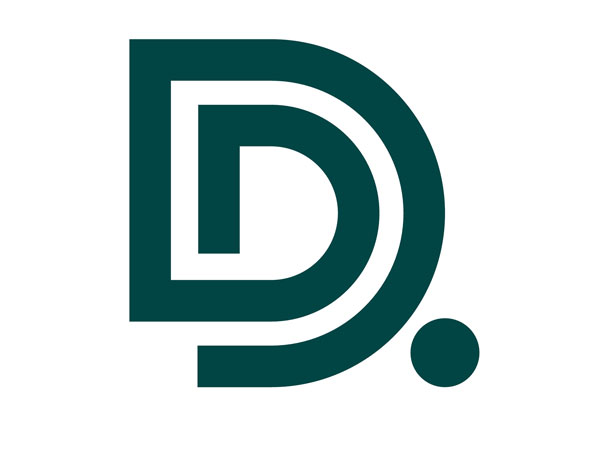 It's getting easier and simpler to ride the bus in Detroit as the Detroit Department of Transportation launches upgraded service on ten of the most heavily used routes under a new brand: ConnectTen.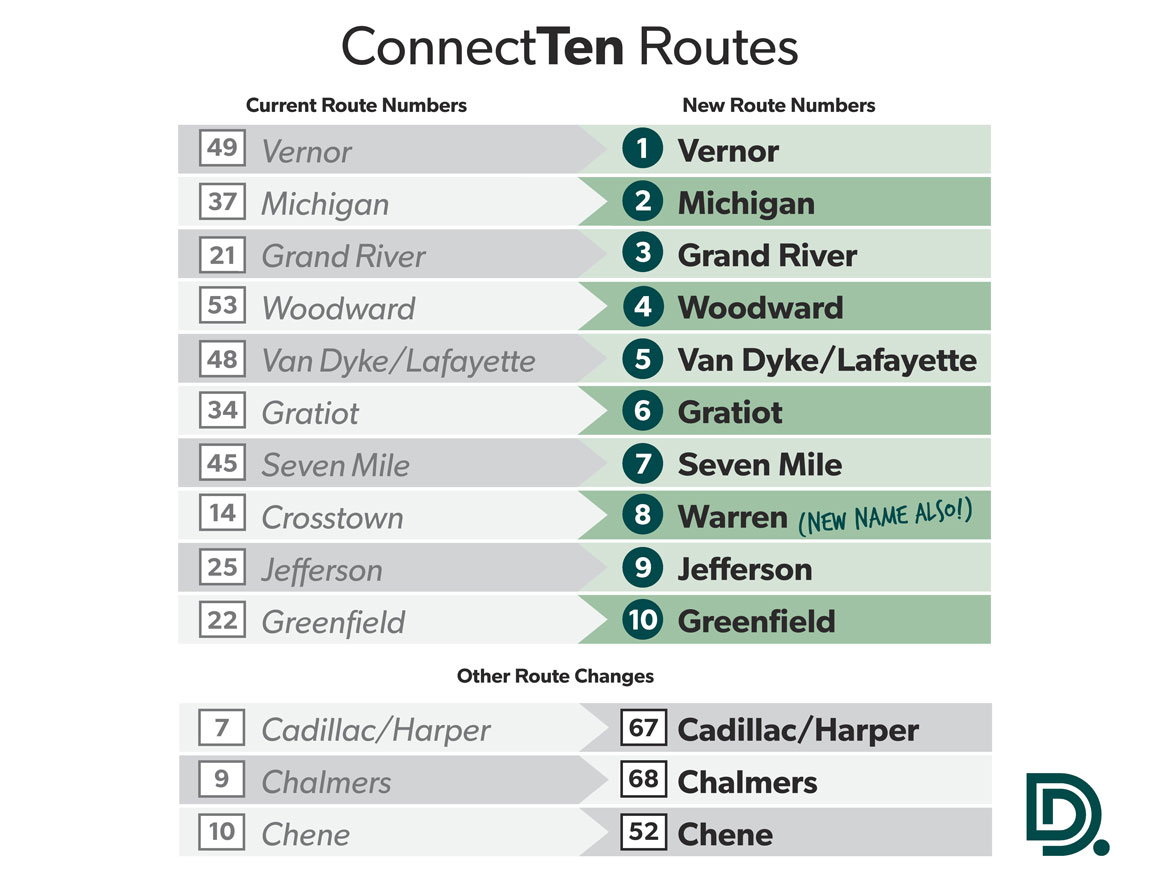 As DDOT launches this upgraded service and continues to improve transit across the city, the department is shedding its old brand in favor of a new look that reflects the department's progress.
"Every chance we get, we are going to keep improving transit so Detroiters can connect to jobs and other opportunities," said Mayor Mike Duggan.  "We have made significant strides in our service over the past few years and are going to keep moving in that direction until Detroiters have a world class public transportation system."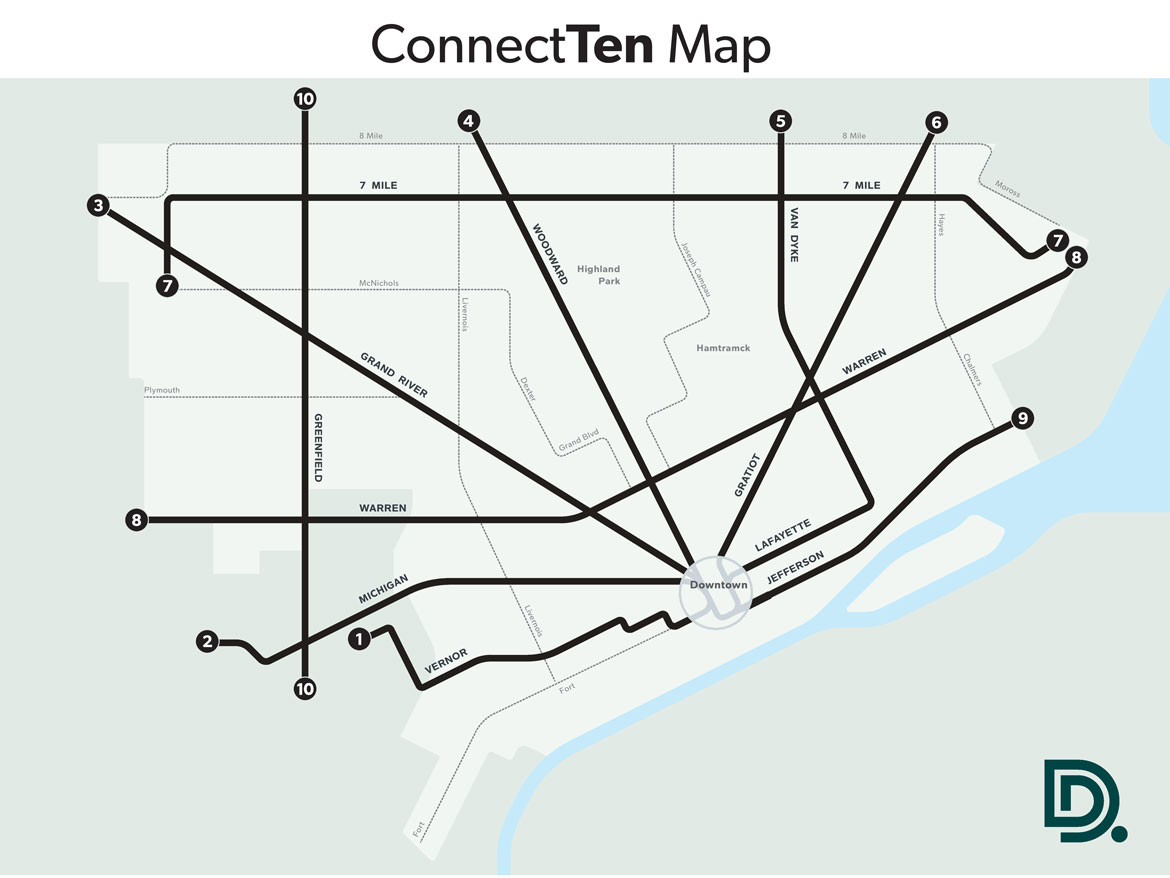 Building a world-class transit system
The ConnectTen service will add 500 trips a week on ten routes across the entire city, with peak hour frequency of 15 minutes. Peak hours are from 6:00 AM to 9:00 AM and 3:00 PM to 6:00 PM on weekdays. The routes, which serve about 60 percent of all DDOT riders, will be also renumbered one through ten, starting September 1.
In addition to the renumbering, riders can expect minor changes to the routes, and improved features such as:
improved buses with new and easy to recognize branding,
24/7 service on all ConnectTen routes, adding Vernor and Greenfield (for a total of 12 routes with 24-hour service city wide),
and Free Wi-Fi on all ConnectTen buses by the end of September.
Additionally, DDOT will be expanding their first/last mile pilot with Lyft based on customer feedback along ConnectTen routes. Customers will now receive a $7 Lyft ride credit for rides to or from any ConnectTen route, outside of the downtown area, between the hours of 11pm and 5am, Monday through Friday.
Better service, better brand
As service improves, DDOT is also introducing a new visual identify and brand with a modern logo that represents the department's progress and future direction. Riders will first see the new brand on ConnectTen buses, and will see more changes as the identity is gradually rolled out on all routes and DDOT materials over the next year.
"We have made many improvements in the last few years and we're dedicated to moving the community forward," DDOT Interim Director Angelica Jones said. "That should be reflected in our service as well as our brand." 
DDOT keeps moving forward
The ConnectTen service upgrade and re-branding of the department are just some of the ways DDOT is working to make transit in Detroit simpler and easier to use. Just last week, DDOT announced proposed changes to create a simplified, flexible bus fare structure, and a new partnership with SMART. The changes include:
Eliminating all transfer fares, including additional transfer fares between DDOT and SMART, to allow for seamless transfers between the two systems
Reducing the number of passes from 25+ confusing choices to six easy, flexible options
Adding a mobile fare payment app and additional retail location for tickets
For more information on DDOT and the ConnectTen service changes, visit http://www.ridedetroittransit.com/ or call DDOT at (313) 933-1300.