Neighborhood Opportunity Fund
Since 1976, City Council has provided grants for public service programs proposed by nonprofit and neighborhood service organizations through the Neighborhood Opportunity Fund (NOF) program. This program, which is a part of the City's Community Development Block Grant (CDBG) program, provides funds for public services to improve the quality of life of low-income residents in the City of Detroit. The program currently awards grants in the areas of Education, Seniors, Recreation, Health, and Public Safety.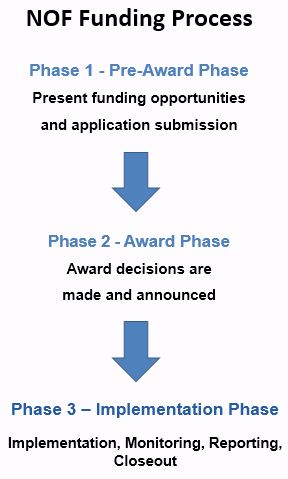 Learn more about applying for an award from the Neighborhood Opportunity Fund
In the 2019-2020 fiscal year, HUD allocated almost $35,000,000 to Community Development Block Grant Programs for all of Detroit. Of that total allocation, the Neighborhood Opportunity Fund was awarded over $2.4 million dollars.
2020-2021 Neighborhood Opportunity Fund Subrecipients
Accounting Aid Society - Awarded $87,121 for addressing economic opportunity by ensuring Detroit residents obtain access to the tax refunds and credits to which they are entitled. (Education)
Cass Community Social Services - Awarded $65,000 for operating the Sustainability Institute to train unemployed and underemployed adults to succeed in living wage jobs in the 21st Century Green Economy in metropolitan Detroit. (Education)
Center for Employment Opportunities - Awarded $82,121 for running the CEO program which aims to reduce recidivism and improve employment outcomes for people returning home from incarceration. (Education)
Clark Park Coalition - Awarded $82,121 for providing youth with after-school and summer recreational educational and sports programs that increase life and social skills, assist with homework, teaching healthy eating and nutrition education, and providing youth employment opportunities. (Recreation)
Cody Rouge Community Action Alliance - Awarded $82,121 for promoting the personal development of the neighborhood's youth by providing them with opportunities to engage in authentic decision-making and strong adult-youth partnerships through recreational programming. (Recreation)
Coleman A. Young Foundation - Awarded $72,121 for providing an after-school program for youth 6-12, youth leadership development program, parents workshops, life skills programming, and instills confidence in Detroit students. (Education)
DAPCEP (Detroit Area Pre-College Engineering Program) - Awarded $82,121 for partnering with universities, training programs, and K-12 school systems in order to connect youth to the best science, technology, engineering, and math (STEM) educational experiences. (Education)
Delray United Action Council - Awarded $67,121 for providing transportation to senior residents living within the project area who are in need of transportation to school to obtain their GED, medical appointments, food shopping and to the Delray Center. DUAC also has an adult day care program that provides food & friendship/congregate meals, arts & crafts and senior outings. (Seniors)
Dominican Literacy Center - Awarded $82,121 for providing educational programs to tutor adults to read, write, and perform basic math operations, GED preparation, as well as learn computer skills. (Education)
Eastern Market Corporation - Awarded $57,121 for expanding its food access and nutrition education programs in the City of Detroit to serve more people and to serve them more deeply. (Health)
Focus:HOPE - Awarded $77,121 for preparing unemployed and under-employed Detroiters for information technology jobs, creating greater economic self-sufficiency. (Education)
Greater Detroit Agency for the Blind and Visually Impaired - Awarded $72,121 for providing "in-home" rehab therapy, mobility training and group support for the visually impaired. (Health)
Heritage Works - Awarded $72,121 for promoting the academic and career success as well as the well-being of youth, preparing for an increasingly international and competitive world. (Education)
International Institute of Metropolitan Detroit - Awarded $82,121 for providing adult educational services including ESL, GED, and financial empowerment classes, career development and vocational training programs as well as immigration/legal services. (Education)
Jefferson East, Inc. - Awarded $82,121 for providing the community with supplemental police patrols, crime statistic monitoring, resident safety organizing, safety assessments, target hardening services, and domestic violence prevention and recovery services. (Public Safety)
Joy-Southfield CDC - Awarded $72,121 for providing preventative health education programs and services, such as farmers market and Healthy Eating Activity & Learning (HEAL) workshop to the residents of Cody Rouge. (Health)
L&L Adult Day Care - Awarded $72,121 for providing adult day care services for senior citizens age 60 or older with or without developmental disabilities, mental impairments and/or physical disabilities, as well as providing respite for caregivers. (Seniors)
LASED (Latin Americans for Social & Economic Development, Inc.) - Awarded $77,121 for operating a senior center in Southwest Detroit which operates a food and friendship program, health and disease prevention classes for primarily Hispanic senior citizens, who are monolingual or limited English-speaking. (Seniors)
Luella Hannan Memorial Foundation (Hannan Center) - Awarded $82,121 for providing case management, information/referral, legal assistance, and small emergency grants to Detroit seniors. (Seniors)
Matrix Human Services - Awarded $82,121 for providing services to seniors to increase self-sufficiency in their homes. Services include access to direct services, nutritional and emergency food assistance, transportation services, and medical services. (Seniors)
Mosaic Youth Theatre - Awarded $77,121 for Mosaic Youth Ensembles, a comprehensive multi-tiered out-of-school-time Creative Youth Development program providing year-round performing arts/life-skills training, performance experience and travel opportunities to underserved youth. (Recreation)
My Community Dental Center - Awarded $71,409 for providing oral healthcare, including complete and partial dentures, to low-income patients within the City of Detroit. (Health)
Neighborhood Legal Services - Awarded $72,121 for providing case management services, legal services and appropriate referrals to victims of human trafficking. (Public Safety)
Project Healthy Community - Awarded $72,121 for preparing middle and high school student for college and their careers and making them stronger mentors for younger students through leadership and soft-skills development, workplace learning and volunteerism. (Education)
Ruth Ellis Center - Awarded $60,000 for increasing workforce development skills in various Detroit LGBTQ+ youth. (Education)
Siena Literacy Center - Awarded $77,121 for providing educational one-to-one or small group tutorial services to adults to increase their basic skills, assist ESL learners, increase computer literacy and prepare them for taking the GED or seeking employment. (Education)
SOAR Detroit - Awarded $72,121 for the In-School Reading Partnership Expansion Program, an expansion of SOAR Detroit's current reading intervention. SOAR Detroit partners with local elementary schools to help their student's achieve their reading goals. (Education)
Sowing Empowerment & Economic Development (SEED) - Awarded $72,121 for providing youth with educational opportunities through an Integrated Reading Curriculum with access to books, an obesity reduction program and a civil engagement program promoting social, political and economic equity. (Education)
St. Patrick Senior Center - Awarded $81,121 for providing companionship and acting as a liaison with community and medical resources to ensure seniors receive services needed to maintain independence, thereby preventing institutionalization through a daily meal program, an on-site medical clinic, and enhanced senior fitness program. (Seniors)
St. Vincent and Sarah Fisher Center - Awarded $87,121 for providing free Adult Education through HSE tutoring and workforce development programming. The Adult Education and Workforce Development programming assists students 18 and older in obtaining their HSE High School Equivalency Diploma (GED or HiSET). (Education)
The Youth Connection - Awarded $77,121 for providing youth programming with career development opportunities by exposing, engaging and training youth for employment, teaching life skills, and assisting with internship and certification opportunities. (Education)
The Yunion - Awarded $72,121 for providing Standing in the Gap (S.I.G.), an HIV prevention education program that is designed to address and decrease HIV infection among African American women and girls aged 13-60 using a faith-based approach. (Health)
Urban Neighborhood Initiative - Awarded $77,121 for ensuring all residents have access to primary and secondary education and post-secondary education and job training opportunities that lead to economic stability and growth. (Education)
Wellspring - Awarded $82,121 for providing math and reading curriculum, recreation, field trips, college prep, community service, outdoor adventure and leadership development for youth and young adults. (Education)
World Medical Relief - Awarded $60,000 for operating an Affordable Prescription Program, providing prescription medication to individuals 18 and older who do not have financial resources or insurance to pay retail price for their medication. (Health)
YMCA of Metropolitan Detroit - Awarded $77,121 for elevating achievement through standardized test-taking strategies, interactive career exploration, workforce development, summer employment, mentoring and academic support. (Education)
______________________________________________________________
COVID CARES Funding: CDBG – CV Subrecipients
Congress provided $5 billion in the CARES Act for the Community Development Block Grant (CDBG) program to states, metropolitan cities, urban counties, and insular areas.
At least 70 percent of every grant must be expended for activities that benefit low- and moderate-income persons by providing housing, a permanent job, a public service, or access to new or significantly improved infrastructure. The remaining 30 percent may be used to eliminate slum or blighted conditions, or to address an urgent need for which the grantee certifies it has no other funding.
Eligible activities include:
Public service activities
Housing-related activities
Public improvements and facilities
Activities to acquire real property
Economic development activities
General administrative and planning activities
Activities must benefit residents within the jurisdiction of the grantee or as permitted by the CARES Act.
The City of Detroit, Neighborhood Services division was awarded $2,511,678 in CARES funding to distribute to local subrecipients.
Four organizations have been awarded a combined total of $507,973 to mitigate housing instability as a result of the economic crisis and will use these funds to increase their organization's ability to provide housing and economic counseling services for Detroit residents impacted and affected by COVID-19.
Bridging Communities – Bridging Communities is a grassroots organization dedicated to enhancing the quality of life for elders in Southwest Detroit ($150,000)
Central Detroit Christian – Central Detroit Christian is a non-profit, faith-based organization committed to empowering people, creating positive opportunities for the community and loving our neighbors as ourselves. ($150,000)
U-SNAP-BAC – U-SNAP-BAC (United Streets Networking and Planning; Building A Community) was incorporated in 1987 by a consortium of seven (7) neighborhood organizations and four (4) business associations to revitalize the east side of Detroit ($57,973)
Jefferson East, Inc. – Jefferson East, Inc. is a multi-service neighborhood organization that serves low-income populations on Detroit's east side and five historic adjoining neighborhoods. ($150,000)
Two organizations have been awarded a combined total of $1,225,088 to provide resources for all seniors (55+) who have been affected or impacted by COVID-19:
St. Patrick Senior Center - St. Patrick Senior Center is a comprehensive health and wellness program that provides valuable services including hot and nutritious meals, an excellent health maintenance clinic, and transportation assistance to a diverse population of seniors age 55 and older. ($275,000)
Detroit Area Agency on Aging (DAAA) – Detroit Area Agency on Aging (DAAA) is a nonprofit agency that serves older persons, adults with disabilities and caregivers residing in Detroit ($950,088)
Two organizations have been awarded a combined total of $729,541 to provide free financial counseling and tax preparation services and alleviate financial instability as a result of the economic crisis caused by COVID-19:   
Wayne Metropolitan Community Action Agency - Wayne Metropolitan Community Action Agency (Wayne Metro) is a 501(c)(3) non-profit organization serving approximately 35,000 low-and moderate-income residents throughout Wayne County. They provide over 60 programs in the areas of Quality Housing, Family Stability and Economic Opportunities ($401,501)
Matrix Human Services – Matrix Human Services provides assistance to more than 20,000 people annually by offering essential needs, education, and supportive services that defuse crises, treat individuals and family problems, prevent abuse and neglect. ($328,040)
________________________________________________________________
2021 – 2022 Neighborhood Opportunity Fund Subrecipients
Accounting Aid Society - Awarded $82,950 for addressing economic opportunity by ensuring Detroit residents obtain access to the tax refunds and credits to which they are entitled. (Education)
Bridging Communities - Awarded $77,945 for senior activities; non-medical transportation to doctor's visits, nutritional support. Volunteer training to provide small home repairs and home chore services. (Seniors)
Clark Park Coalition - Awarded $77,945 for providing youth with after-school and summer recreational, educational, and sports programs that increase life and social skills; assisting with homework; teaching healthy eating and nutrition education; and providing youth employment opportunities. (Recreation)
Center for Employment Opportunities - Awarded $77,945 for running the CEO program which aims to reduce recidivism and improve employment outcomes for people returning home from incarceration. (Education)
Cody Rouge Community Action Alliance - Awarded $62,945 for promoting the personal development of the neighborhood's youth by providing them with opportunities to engage in authentic decision-making and strong adult-youth partnerships through recreational programming and the Cody Rouge Youth Services Council. (Recreation)
Coleman A. Young Foundation - Awarded $61,813 for providing an after-school program for youth 6-12, youth leadership development program, parents' workshops, life skills programming, and instilling confidence in Detroit students. (Education)
DAPCEP (Detroit Area Pre-College Engineering Program) - Awarded $62,945 for partnering with universities, training programs, and K-12 school systems in order to connect youth to the best science, technology, engineering, and math (STEM) educational experiences. (Education)
Delray United Action Council - Awarded $72,945 for providing transportation to senior residents living within the project area who are in need of transportation to school to obtain their GED, medical appointments, food shopping and to the Delray Center. DUAC also has an adult day care program that provides food & friendship/congregate meals, arts & crafts and senior outings. (Seniors)
Dominican Literacy Center - Awarded $82,950 for providing educational programs to tutor adults to read, write, and perform basic math operations, GED preparation, as well as learning computer skills. (Education)
Fair Housing Center of Metropolitan Detroit- Awarded $72,945 for providing Detroit residents with on-going fair housing education services to eliminate impediments to fair housing choice and providing equality of housing opportunities for all protected classes and ethnic groups. (Education)
Focus:Hope - Awarded $77,945 for preparing unemployed and under-employed Detroiters for information technology jobs, creating greater economic self-sufficiency. (Education)
Heritage Works - Awarded $62,945 for providing the Youth Works program that consists of Heritage School and Work Arts. Heritage School uses dance, rhythm and folklore activities to help youth explore the movement, music, and traditions of different ethnic groups. Work Arts is a year-round culture and career success program. (Recreation)
International Institute of Metropolitan Detroit - Awarded $77,950 for providing adult educational services including ESL, GED, and financial empowerment classes, career development and vocational training programs as well as immigration/legal services. (Education)
Jefferson East, Inc. - Awarded $72,945 for providing the community with supplemental police patrols, crime statistic monitoring, resident safety organizing, safety assessments, target hardening services, and domestic violence prevention and recovery services. (Public Safety)
Joy-Southfield CDC - Awarded $72,945 for providing preventative health education programs and services, such as a farmers market and Healthy Eating Activity & Learning (HEAL) workshops to the residents of Cody Rouge. (Health)
L&L Adult Day Care - Awarded $72,945 for providing adult day care services for senior citizens age 60 or older with or without developmental disabilities, mental impairments and/or physical disabilities, as well as providing respite for caregivers. (Seniors)
LASED (Latin Americans for Social and Economic Development) - Awarded $72,945 for operating a senior center in Southwest Detroit which operates a food and friendship program, health and disease prevention classes for primarily Hispanic senior citizens who are monolingual or limited English-speaking. (Seniors)
Luella Hannan Memorial Foundation (Hannan Center) - Awarded $77,945 for providing case management, information/referral, legal assistance, and small emergency grants to Detroit seniors. (Seniors)
Matrix Human Services - Awarded $77,945 for providing services to seniors to increase self-sufficiency in their homes. Services include access to direct services, nutritional and emergency food assistance, transportation services, and medical services. (Seniors)
Mercy Education Project - Awarded $72,945 for providing educational opportunities, life skills development, and cultural enrichment to help at-risk girls and women in Southwest Detroit. (Education)
Mosaic Youth Theatre of Detroit - Awarded $67,945 for providing Mosaic Youth Ensembles, a comprehensive multi-tiered out-of-school-time Creative Youth Development program providing year-round performing arts/life-skills training, performance experience and travel opportunities to underserved youth. (Recreation)
My Community Dental Center - Awarded $77,945 for providing oral healthcare, including complete and partial dentures, to low-income patients within the City of Detroit. (Health)
Neighborhood Legal Services - Awarded $72,945 for providing case management services, legal services and appropriate referrals to victims of human trafficking. (Public Safety)
Project Healthy Community - Awarded $82,950 for providing the Family Wellness Program to improve the health of Detroit residents through improved health literacy, health behaviors, nutrition, and exercise. The program seeks to strengthen the relationship between participants and their primary care providers. (Health)
SER Metro Detroit - Awarded $72,945 for providing an Educational GED and Workforce Development program. Adult Basic Education programs provide Detroit youth and adults education in literacy, mathematics, and science. (Education)
Siena Literacy Center - Awarded $77,945 for providing educational one-to-one or small group tutorial services to adults to increase their basic skills, assist ESL learners, increase computer literacy and prepare them for taking the GED or seeking employment. (Education)
St. Patrick Senior Center - Awarded $82,950 for providing companionship and acting as a liaison with community and medical resources to ensure seniors receive services needed to maintain independence, thereby preventing institutionalization through a daily meal program, an on-site medical clinic, and enhanced senior fitness program. (Seniors)
Southwest Economic Solution Corporation - Awarded $77,945 for providing MathUp, an accelerated GED program for adult learners that addresses the significant challenges of passing the math portion of the GED exam. (Education)
Southwest Detroit Business Association - Awarded $50,000 for providing recreation opportunities for youth ages 9-18 with the COMPAS music, dance and theatre programs. (Recreation)
Teen HYPE - Awarded $67,945 for providing educational programs to prepare teens for the next stage of life through life skills development, sexual health education and performing arts training. (Recreation)
The Greening of Detroit - Awarded $77,945 for providing job training and placement services for adults through the Detroit Conservation Corps through classroom instruction, hands-on training, certification opportunities, and integrated support services. (Education)
The Youth Connection - Awarded $77,945 for providing youth programming with career development opportunities by exposing, engaging and training youth for employment, teaching life skills, and assisting with internship and certification opportunities. (Education)
Urban Neighborhood Initiative - Awarded $72,945 for ensuring all residents have access to primary and secondary education and post-secondary education and job training opportunities that lead to economic stability and growth. (Education)
Wellspring - Awarded $77,945 for providing math and reading curriculum, recreation, field trips, college prep, community service, outdoor adventure and leadership development for youth and young adults. (Education)
World Medical Relief - Awarded $77,945 for operating an Affordable Prescription Program, providing prescription medication to individuals 18 and older who do not have financial resources or insurance to pay retail price for their medication. (Health)
YMCA of Metropolitan Detroit - Awarded $77,945 for elevating achievement through standardized test-taking strategies, interactive career exploration, workforce development, summer employment, mentoring and academic support. (Education)