Planned redevelopment in Islandview Greater Villages neighborhoods to include significant affordable housing
City releases RFQ for renovation of 10 vacant duplexes, construction of new housing
Overall project to build or rehab nearly 80 units, many reserved for residents making less than 60% of area's median income
Redevelopment effort will address all publicly owned vacant homes, redevelop major city owned vacant lots within 1/3-square mile area
The City of Detroit is seeking proposals for two projects in the Islandview neighborhood, to renovate ten existing duplexes and build up to 45 units of new housing on vacant land in the neighborhood. The requests are part of a larger housing strategy to create more affordable housing options in the area and to preserve and renovate dozens of vacant city and Detroit Land Bank Authority (DLBA) owned properties in a 1/3-square mile area.
The housing strategy stems from the city's recently completed neighborhood framework plan in Islandview, West Village, Indian Village, and East Village. The plan was developed through an 18-month community engagement process with residents and will guide investments from the City's Strategic Neighborhood Fund, a fund established to invest in neighborhoods across the city and support housing, parks, streetscapes and commercial corridors.
The city will require proposals to reserve at least 20 percent of the new units as affordable housing for residents making at 80 percent of the area median income, or $39,760 annually, or less. Preference will be given to proposals that provide deeper affordability levels, with units reserved for residents making as low as 50 percent of the area median income, which is $24,850 annually. Funding and incentives from the city's $250 million Affordable Housing Leverage Fund and other affordable housing incentives will be available for the projects.
"One of the main things we heard from residents throughout the planning process was to preserve the homes we have and preserve affordability, and that's what our plan is based upon," said Donald Rencher, director of Housing and Revitalization. "We know we're not going to grow as a city unless we preserve affordability and build new affordable housing. We want to do that with the community."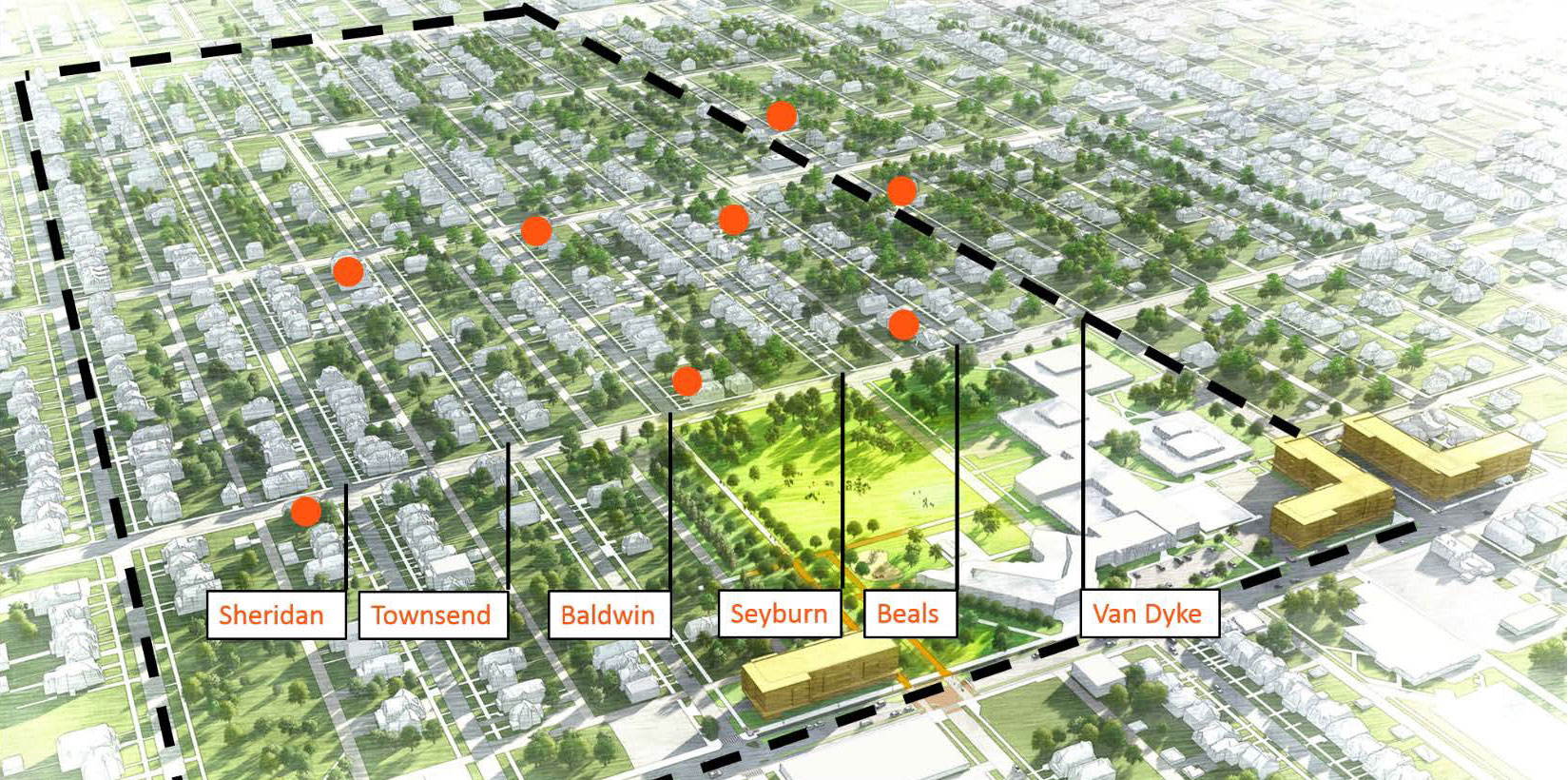 Renovations to preserve neighborhood assets
Responding to requests from resident to save vacant structures in the neighborhood, the first request for qualifications seeks a developer to renovate and occupy eight two-family duplex rehabilitation sites located on the blocks directly to the north of Kercheval between Vernor and Charlevoix, to create approximately sixteen mixed-income rental units.
Many of the duplexes are adjacent to vacant DLBA owned parcels which may be assembled to provide larger side lots where appropriate. The project is an opportunity to build upon the density of the area, and increase affordable housing options in the neighborhood.
Ultimately, the city expects 50% of all units in renovated duplexes to be affordable at various income levels. At a minimum, these units will be affordable to residents making 80 percent of the area median income, but the city will give preference to developers who propose affordable units for residents making 50 to 60 percent of the area median income, or $24,850 to $29,820 annually.
An additional request for qualifications will be released next year to renovate 9 more vacant duplexes in the area.
New construction to meet growing housing demand
The second request for qualifications seeks a developer for a new construction housing development on thirteen vacant parcels between Townsend Street and Sheridan Street, as well as the rehabilitation of two adjacent vacant duplexes. The new construction is meant to meet a growing demand for housing options in the Islandview Greater Villages area, where some apartment buildings have seen waiting lists grow to over 100 people.
Proposals for the new construction could include townhome construction or a traditional multi-family apartment building. The final proposal will be required to match the existing character of the neighborhood. The development will overlook the proposed new enhanced entry and improvements to Butzel Playfield, where $1.5 million in improvements are expected to be completed in 2019.
The new housing and renovated duplexes will have the same affordability requirements as the other projects and preference will again be given to developers who can provide a wide range of affordability to ensure residents of all incomes have access to new housing coming to the area.
Rehabbed and Ready program to promote ownership in Islandview
While the city seeks developers to renovate and build housing in the Islandview neighborhood, the Detroit Land Bank Authority is working to promote home ownership through the successful Rehabbed and Ready Program. Through that program, the DLBA will rehabilitate 16 homes over the next 18 months and make them available for purchase.
The DLBA's Rehabbed & Ready program offers move-in-ready homes in great neighborhoods at affordable prices. In addition to a collaboration with Home Depot, the DLBA also partners with community organizations and local contractors such as D & D Innovations, National Faith Home Buyers, and Wayne Metro Community Action Agency to beautifully renovate the houses. To make the buying process easier, Quicken Loans offers interested buyers preapproval for mortgage financing. So far more than 50 families have found their Detroit dream home through the program.
Comprehensive planning for inclusive neighborhood growth
The comprehensive housing strategy is just one section of the area's neighborhood framework plan, announced earlier this year. The plan, co-crafted by residents and the City to guide future growth and investment in the neighborhood, includes a series of near term implementation projects. The City will be investing dollars in public spaces and infrastructure as a comprehensive approach so residents can see real projects working together to strengthen the neighborhood.
Near-term projects, implemented over the next one to three years, include the following:
Butzel Playfield improvements: Currently Butzel Playfield, adjacent to the Butzel Family Center, sees limited activity. The City has released an RFP seeking to redesign the park to become a hub and center piece and to create greater accessibility and connections the neighborhood. That includes creating new entrances to the park and improving other park amenities. $1.5M in improvements are expected to be completed in 2019.
Streetscape Improvements: The City plans to invest $10 million in streetscape improvements including wider sidewalks, improved parking, protected bike lanes and landscaping along Kercheval from Bellevue to Fischer. Traffic calming and new pedestrian crossings will be installed around the perimeter of Butzel Playfield and on Van Dyke at Agnes and Lafayette. The improvements will calm traffic, increase safety and promote walkability among the growing number of businesses in the neighborhood.
Commercial Corridor Development: There are a number of additional developments planned for the neighborhood, including a $23.1M mixed-use infill development starting construction later this year. The proposed development includes 92 units of residential apartments and 6,000 square feet of retail, at the Northeast corner of Kercheval & Van Dyke. The project will also bring a high level of affordable housing options, 30% of rental units for residents making $39,760 annually or below, and 20% of units for residents making $24,850 annually or below.
Islandview Greater Villages is one of ten areas designated for investment by the Strategic Neighborhood Fund (SNF), which started as a $42 million fund in three pilot areas and has expanded to a $130 million effort in seven additional areas to leverage public and private funds to create inclusive neighborhoods. The Strategic Neighborhood Fund invests in these near-term implementation projects developed through the community planning process.
Timeline
Interested developers can find the full requests and more information here. Proposals are due December 21, 2018. Proposals will be selected in early 2019, with work expected to begin later in 2019.