Lee Plaza, one of Detroit's last abandoned high-rises, will soon be reborn as senior affordable housing
Lee Plaza, one of Detroit's last abandoned high-rises, will soon be reborn as senior affordable housing
Closed since 1997, the Lee will become 117 units of affordable housing at 50% AMI; seniors will pay no more than 30% of their income in rent, and affordability guaranteed for 45 years.  
$59M deal made possible following City Council's approval of $7M in ARPA funds; financing also is thanks to $25.4M in LIHTC through MSHDA and $4.5M in HUD CDBG/HOME.
DETROIT – Mayor Mike Duggan joined developers The Roxbury Group and Ethos Development Partners, as well as City and State officials, today to celebrate a key financing piece for the redevelopment of the Lee Plaza. The abandoned skyscraper, which has stood for decades as one of Detroit's most infamous symbols of blight and disinvestment, will now see a $59 million renovation into low-income housing for senior citizens, who will pay no more than 30 percent of their monthly income in rent.
The first phase of the redevelopment will see the creation of 117 units of affordable housing for seniors at or below 50 percent area median income, the equivalent of $28,000 for a one-person household and $32,000 for a couple. The affordability will be guaranteed for at least the next 45 years. Construction is expected to begin next year and finish in 2024. A $20 million second phase that will include 60 to 70 market rate apartments is expected to be completed in 2025.
"Today is a great day in the city of Detroit," said Mayor Mike Duggan. "Not only are we announcing that we are eliminating a dangerous abandoned building in our community, but we're creating more than 100 units of senior affordable housing and preserving a historic Detroit landmark at the same time. This announcement is a win for everyone."
The Lee will undergo a full renovation, including 4,500 square feet of its main-floor common space, and many of its historic features will be restored. Its iconic ballroom, the frequent subject of so-called "ruin porn" photography of the city during the 2000s, will be restored to its original grandeur by a largely Detroit-based team.
Though the building's significant vandalism and decay has led many observers to believe the building to be beyond repair, the development team of Roxbury Group and Ethos Development have a proven track record of saving Detroit landmarks that others have said cannot be saved. Most notable are the Metropolitan Building and David Whitney Building downtown and the NSO Bell Building on Oakman Boulevard at the Lodge Freeway.
"The restoration of the Lee Plaza is not only critical to the ongoing growth of the Northwest Goldberg neighborhood, it represents a significant milestone in Detroit's remarkable story of rebirth," said David Di Rita, principal of The Roxbury Group. "As recently as a decade ago, Detroit had the dubious distinction of being home to dozens of long-vacant high-rises. Today, we stand at the precipice of restoring its last."
In addition to providing senior affordable housing, the project will create an estimated 200 permanent and temporary jobs, help revitalize this section of the historic West Grand Boulevard corridor near Grand River, and eliminate a major source of blight and safety concerns for the students of Detroit Collegiate Preparatory Academy at Northwestern next door.
This section of the city is seeing a massive influx of investment over the past few years, with the $55 million Motown Museum expansion under way, Henry Ford Health System's Brigitte Harris Cancer Pavilion opening last year, the Detroit Pistons Performance Center and practice facility opened in 2019, and major renovation work and new tenants going into the Fisher Building, among others.
"I am excited about the proposed redevelopment of Lee Plaza and the associated senior affordable housing planned for the site," said Council President Mary Sheffield. "For too long this structure has stood as an eyesore and symbol of Detroit's historic struggles with disinvestment and urban decay. Today's announcement and proposed redevelopment signals a new day and serves as a beacon of hope for the future of the surrounding neighborhood. Furthermore, the burden of Detroit's housing crisis will be lessened by this project which can serve as a model for development across the City."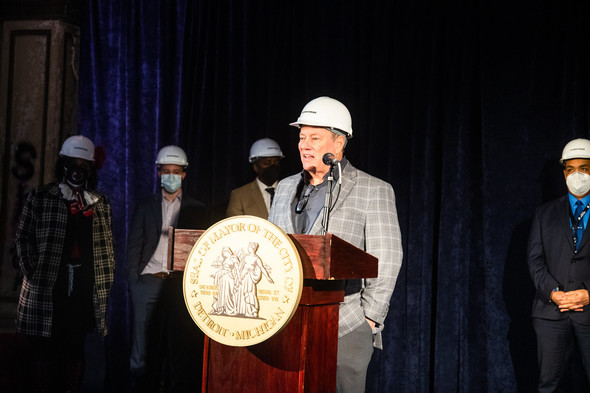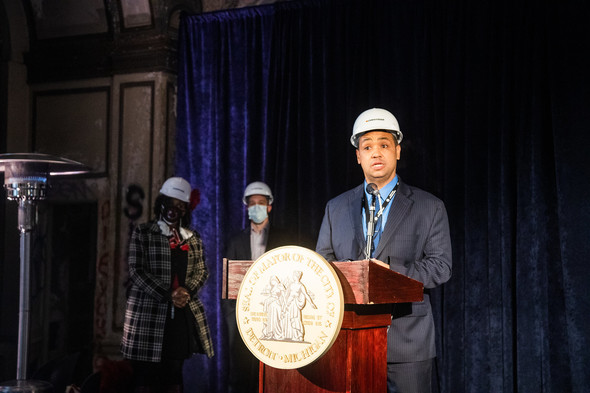 A look at the plan to save the Lee
The building was acquired by the Detroit Housing Commission in 1968 and run as low-income housing until the Lee was shuttered in 1997 because of changes in federal affordable housing programs that made the aging building too expensive to continue operating. The building soon fell victim to looters and vandals. It was acquired by the City of Detroit in 2017, and Detroit's Housing & Revitalization Department (HRD) set out to stabilize the building and prevent further access to trespassers and those who sought to destroy it, as well as remove debris and perform hazardous material abatement on the first two floors, limit water infiltration and perform a structural assessment to guide pre-development planning. HRD also began working to find a developer for the property who not only had the vision and means to bring it back to life, but also the track record of tackling such a challenge. It found that partner in 2019, when the Detroit City Council approved selling it to Roxbury and Ethos, allowing them to begin the effort of locking down one of the more complex financing deals in the city's history. Working with HRD, the developers secured the following:
$25.4 million in equity from 9% and 4% Low Income Housing Tax Credits (LIHTC) through the Michigan State Housing Development Authority (MSHDA).
$10.5 million U.S. Department of Housing & Urban Development (HUD) mortgage.
$9.3 million federal historic tax credit
$7 million City of Detroit American Rescue Plan Act (ARPA) funds
$4.5 million in City of Detroit HOME/Community Development Block Grant funds via HUD
$1.5 million from MSHDA Neighborhood Stabilization Program
$0.8 million in deferred developer fee
MSHDA's awarding of the LIHTC award last month made the entire deal possible, and opened the door for the City Council's unanimously awarding Tuesday the $7 million in ARPA funds.
"The redevelopment of the Lee Plaza will bring us even closer to the goal of providing every Michigander with access to safe, quality, affordable housing," said Chad Benson, MSHDA rental development director. "When Michiganders have a place to call home, it leads to a higher quality of life and thriving communities."
"On behalf of the administration and residents of this city, I would like to thank MSHDA, HUD and the City Council for their support in helping to bring more quality senior affordable housing to Detroit and to helping to save the Lee Plaza," said Julie Schneider, director of the City of Detroit Housing & Revitalization Department. "I also would like to thank my dedicated team for its work on one of the more complicated financial deals in recent memory. The creation of affordable housing, especially for our seniors, is one of the top priorities of our department, and seeing the Lee Plaza deal through to completion is proof of that dedication."
The 15-story skyscraper was built as luxury living in 1927 by prominent Detroit real estate developer Ralph T. Lee as his signature project. Designed by architect Charles Noble, the building was added to the National Register of Historic Places in 1981. Though that feat did not keep the doors open, it will allow the developers to reopen them thanks to its eligibility for federal historic tax credits.
Roxbury and Ethos, working on the project as Lee Plaza LLC, hired the architectural firm Fusco, Shaffer & Pappas to lead the re-creation of the Lee. The general contractor is The Christman Co., a Detroit-based construction company. Renowned Detroit-based historic consultant Kristine Kidorf will be in charge of ensuring the building is up to Secretary of the Interior standards for historic property restorations.