Capital Improvement Program
Since 2019, the Detroit Water and Sewerage Department (DWSD) is investing close to $100 million annually through a Capital Improvement Program (CIP). These projects will help us maintain the city's water and sewer systems for future generations. The effort to upgrade Detroit's systems also reflects the city's mission to put more Detroiters to work.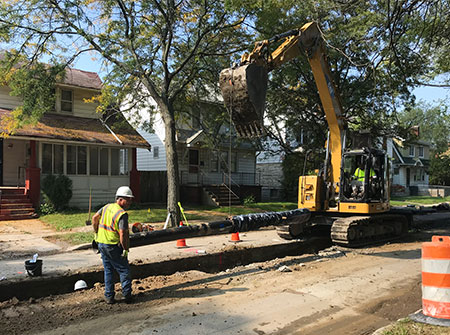 The CIP's goal is to improve service delivery and quality of life in the neighborhoods by :
Reducing water main breaks;
Reducing street flooding and sewer system failures;
Reducing future investment in new CSO facilities (wet weather treatment);
Increasing acres managed by green stormwater infrastructure;
Coordinating with other public and private agencies to maximize dollars invested and minimize disruption from construction activity;
Increasing job opportunities for Detroiters; and
Upgrading and maintaining facilities, equipment and systems for effective operations.
Since the program launched in 2018, DWSD has repaired or replaced 77 miles of water main, 52 miles of sewer collection piping and 1,700 lead service lines . As part of a new neighborhood approach that was launched in Summer 2019, DWSD began assessing the water and sewer systems by neighborhood, rather than by the number of water main breaks and basement backups which was a scattered approach across the city. Since 2018, DWSD assessed 236 miles of water main, including the fire hydrants and valves, and 226 miles of sewer collection piping in nearly 10 neighborhoods. In 2019, DWSD began a neighborhood approach to water and sewer upgrades, including green stormwater infrastructure, starting with Cornerstone Village on the eastside and North Rosedale Park on the westside which as of Spring 2023 are substantially completed.
With older housing in Detroit, it's possible the city has the most lead service lines of any in the Midwest, which is why the CIP includes full lead service line replacement. A service line is a pipe that takes water from the city's water main into your home or business. A good rule of thumb in Detroit is that if a house was built before 1950 it's likely to have a lead service line unless it was replaced at some point. Residential single-family homes are the most common to have lead service lines because lead was only used for pipes that are 2-inches in diameter or less.
As part of its CIP, DWSD has chosen to replace full lead service lines when crews are on the street replacing the water main. This complies with the revised Michigan Lead and Copper Rule, which requires water utilities to remove full lead service lines at 5% per year unless an alternate schedule in an asset management plan is approved by EGLE (Environment, Great Lakes & Energy). DWSD started a Lead Service Line Replacement Program in 2018 where existing full lead service lines are replaced with new copper pipe after receiving property owner/occupant permission. DWSD is also conducting individual lead service line replacement, separate from water main projects, throughout Detroit.
DWSD makes extraordinary efforts to communicate with customers prior to construction through door-to-door canvassing, letters, plus community and block club meetings. Residents receive water filters, a six-month supply of cartridges as well as instructions for faucet flushing and aerator cleaning as precautionary measures during construction (for water main and lead service line replacements only).
As part of the CIP, DWSD is also investing in new equipment and hiring Detroiters, including returning citizens, to address the long-deferred maintenance.
Background
DWSD is one of the largest water and sewer utilities in the United States, serving more than 235,000 accounts that includes a residential population of nearly 700,000. DWSD's water network consists of more than 2,700 miles of water main and nearly 3,000 miles of sewer collection piping. DWSD has a rich history as a public utility dating back to 1836.
Today, DWSD focuses on serving the residents, businesses, non-profits, faith-based organizations and other account holders that rely on water and sewer services within the city of Detroit.
On January 1, 2016, the City of Detroit began leasing regional water and sewer infrastructure, as well as water and wastewater treatment facilities, to the Great Lakes Water Authority (GLWA). The regional system, built by DWSD, serves 126 municipalities in seven southeast Michigan counties. The agreement between DWSD and GLWA includes a $50 million annual lease payment for 40 years to replace and rehabilitate DWSD's aging water and sewer systems. DWSD continues to retain ownership of the regional assets.