Mayor Duggan joins city, state leaders to break ground on $18M senior affordable housing project named for Reverend Holley 
Mayor Duggan joins city, state leaders to break ground on $18M senior affordable housing project named for Reverend Holley 
New development to anchor Woodward Avenue in Piety Hill neighborhood and will offer 60 units for seniors earning 50% or less of area median income
Development led by MHT Housing, with Holley's Historic Little Rock Baptist Church.
Project-based vouchers for all units through Detroit Housing Commission mean no resident will pay more than 30% of their monthly income in rent.
City's Housing & Revitalization Department, MSHDA helped secure financing.
DETROIT – Mayor Mike Duggan, City Council President Mary Sheffield and other state and city leaders joined the Rev. Jim Holley and MHT Housing Inc. today to break ground on an $18 million affordable housing project located across from Holley's Historic Little Rock Baptist Church. The development will serve as a new anchor along Woodward Avenue in the Piety Hill neighborhood, replacing a vacant building that has been demolished to make way for the new affordable housing.
The Rev. Dr. Jim Holley Residences will bring 60 one-bedroom units, all designated as senior affordable housing and all of which will be offered at or below 50 percent area median income (AMI). This translates to no more than $750 a month, however, because of Section 8 project-based vouchers made available through the Detroit Housing Commission, none of the seniors will pay more than 30 percent of their monthly income in rent. The units are for those making less than $28,000 a year, and their affordability is guaranteed for at least the next 40 years.
"I cannot think of a more fitting tribute to Rev. Jim Holley than a building that will provide so much to our community," Mayor Duggan said. "Rev. Holley has dedicated his life to serving this city, and this project will go a long way to providing quality housing at deeply affordable rates for decades to come."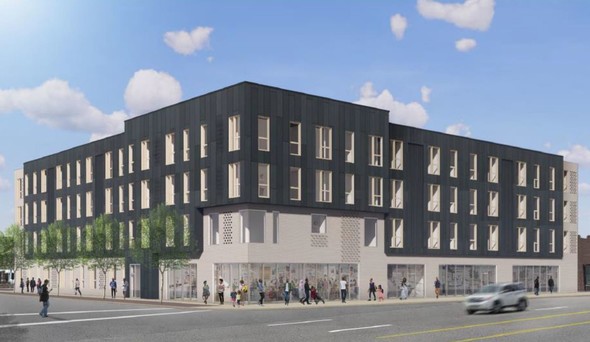 The Rev. Dr. Jim Holley Residences will offer 60 senior affordable housing units, and no senior will pay more than 30% of their income in rent. Rendering: Hamilton Anderson Architects
The development, to be built at 9001 Woodward Ave., is slated to open in about a year, in January 2023. In addition to apartments, it also will feature ground-floor retail that will serve not only residents but the entire neighborhood.
"I am honored that this building will bear my name because it stands as a symbol for what I have so long sought for my beloved fellow Detroiters and the residents in the North End," Rev. Holley said. "I have dedicated my life to advocating for equality, empowerment and justice for all, as well as economic development projects that make the biggest difference in our community. I would like to thank MHT Housing, Mayor Duggan and all at the City for helping to make this difference in our neighborhood and for our seniors."
The development is just the latest step in a lifetime of Rev. Holley creating economic empowerment for Detroiters and helping them meet their basic needs.
The Detroit civil rights icon has served as senior pastor of Historic Little Rock Baptist Church for more than 40 years. Having experienced racism and intimidation in his native South, he was met with similar conditions upon his arrival in the North. As a sophomore classmate of the Rev. Jesse Jackson in 1966 at Chicago Theological Seminary, Rev. Holley followed the lead of civil rights pioneers such as Dr. Martin Luther King Jr. and groups such as the Southern Christian Leadership Conference (SCLC) and the NAACP. Soon he became actively involved in protests, demonstrations and sit-ins aimed at bringing about systemic change in the face of opposition, hatred and racism. He marched with King for better jobs, housing and education for Black people in Cicero, Illinois, in 1966, and met with burning cars, bottles and bricks. He also marched with King in 1968 in support of workers in Memphis, Tennessee, just two weeks before King was assassination.
This background helped shape and strengthen Rev. Holley's commitment to justice and social change. He has sought to guarantee the rights and dignity of his people by meeting basic needs through founding a K-8 charter school, managing a Family Life center focused on family and youth recreation, providing job training and placement programs, low-income housing projects, men's empowerment conferences, adult education and GED courses, and providing food and clothing for hungry Detroit families. He has fought for economic development and access, attracting more than $50 million in business ventures and partnerships creating hundreds of jobs within the community.
"Outside of access to clean safe air and drinking water, there are few things more important than access to quality affordable housing," Council President Sheffield said. "This project will be a welcome addition to District 5 and the portfolio of affordable housing available to our seniors — who are among our most vulnerable residents. Additionally, I applaud Rev. Holley, who has been a pillar in our city for nearly half a century and whose unwavering commitment to lifting up our community continues to inspire us all, which continues with this latest endeavor definitely following in the tradition of his life's work."
All units will have stainless steel appliances, Solid Surface counters and 5G Internet, and all residents will be able to enjoy an Enterprise Green Community with energy efficiencies, handicap accessibility and community room with full kitchen. The building is half a block from a bus stop, eight blocks from the QLINE, and also features plenty of parking.
"MHT Housing is proud to help Rev. Holley continue his mission of being a force for good in this community," said T. Van Fox, president of MHT Housing. "We are committed to creating quality, affordable housing for all, and we could not have asked for a better partner than someone who has spent his life advocating for the same."
The development was made possible, in part, through $1.8 million in HOME funding administered by the City of Detroit's Housing & Revitalization Department.
"The Holley Residences address a key need in our city for quality, senior affordable housing," said Julie Schneider, director of HRD. "Our department is committed to ensuring that development in our city creates equity and opportunity and that our city's neighborhoods are welcoming, inclusive places for all. We look forward to continuing to fully support all developers who share that mission with us."
Added Sandra Henriquez, CEO of the Detroit Housing Commission: "The quality of one's housing should not depend on how much it costs. The DHC is proud to partner with Rev. Holley and MHT Housing to make these project-based vouchers available to seniors and guarantee they will have a home they can afford for decades to come."
The Michigan State Housing Development Authority contributed a $1.39 million award in Low-Income Housing Tax Credits (LIHTC) and also provided a construction loan and mortgage on the property.
"MSHDA and the Whitmer administration are committed to helping ensure every resident of this state has access to safe, quality, affordable housing," said Gary Heidel, acting director of MSHDA. "Having a place like that to call home, especially for Michigan seniors, leads to more equitable and thriving communities."