Massive soil swap to create new stormwater retention in Rouge Park, help complete Riverside Park renovation
Excavation to create storm retention for runoff from 1,200 homes on far west side

Dirt from Rouge Park will put finishing touches on revitalized Riverside Park in SW Detroit

Retention area will keep nearly 100M gallons of stormwater out of combined sewer system to help alleviate neighborhood flooding
DETROIT – The Detroit Water and Sewerage Department (DWSD) and the City of Detroit General Services Department (GSD) are collaborating on a unique excavation in Rouge Park that will benefit residents in two areas of the city. Starting this week, contractors began removing 120,000 cubic yards of soil from the southwestern portion of Rouge Park on the city's far west side. The soil is being removed to prepare for a massive stormwater retention project that will help capture rain runoff from streets in a neighborhood with 1,200 homes to reduce the risk of street and basement flooding.
The soil then will be hauled about 12 miles to Riverside Park next to the Ambassador Bridge to help complete a multi-year transformation of the park into a new premier waterfront recreational opportunity for the residents of Southwest Detroit.
Retention for nearly 100M gallons of stormwater annually
As part of its long-term strategy to reduce the amount of rainwater and snow melt going into the combined sewer system, DWSD has been designing and planning a massive stormwater project in the Far West Detroit neighborhood near Rouge Park since 2016. Several community meetings have taken place and regulatory approval from the Michigan Department of Environment, Great Lakes & Energy (EGLE) has been secured. 
This reuse of the dirt will save DWSD's planned Far West Detroit Stormwater Improvement Project $80,000 that otherwise would have been spent to dispose of the soil.
Construction of the ultimate stormwater retention project is planned to begin by early 2022 and be completed within five years and will represent an investment of more than $30 million. The project, which also will include water system and sewer system upgrades, will direct roof and street runoff from the Far West Detroit neighborhood near West Warren and Telegraph Road into two new stormwater retention basins. 
It is estimated that the retention project will remove 98 million gallons of stormwater runoff each year from the combined sewer system on the city's far west side. A regional effort, led by DWSD, the project is largely funded by the Oakland County Water Resources Commission as the project also benefits the Evergreen-Farmington Sanitary Drain Drainage District.
The stormwater will be stored in the new retention area, allowing it to be filtered naturally before being discharged into the Rouge River.
"This collaboration with GSD to support Riverside Park kick starts our massive stormwater project in the Far West Detroit neighborhood," said DWSD Deputy Director & Chief Engineer Palencia Mobley, P.E. "While our project will not officially start construction for another few months, pending contractor approval, this an important step. The DWSD Far West Stormwater Improvement Project not only will redirect storm runoff from the neighborhood into two new retention areas in Rouge Park to provide more capacity in the combined sewer system during rain events, but it will also replace water mains and lead service lines. Through the collaboration with City of Detroit Parks and Recreation designers and the Friends of Rouge Park, the stormwater project will enhance the park features for all residents and visitors."
A groundbreaking will take place after the construction contract is approved. Updates will be posted at www.detroitmi.gov/sewerupgrades. 
Finishing touches for remake of premier park
Prior to 2016, Riverside Park was undeveloped and largely unused, despite its stunning location. The redevelopment of the park has been done in five stages and made possible thanks to $5 million in cash and more than 4 acres of land the city received in a land exchange with the Detroit International Bridge Company.
The first three phases of Riverside Park's revitalization, completed in 2019 and 2020, have included a new basketball court, soccer fields, softball diamond, several picnic areas, play equipment, skate park, dog park, and a renovated restroom and boat launch. The final two phases will include additional green space, fitness areas, a natural amphitheater, picnic shelters, large playground with splash pad, sledding hill, concessions building, and other amenities.
Crews working on the Riverside Park project will use the relocated dirt to recontour and cap the land in a portion of the park between the river and railroad tracks that bisect Riverside Park, prior to grass and other features being installed, including the amphitheater. 
"This project exemplifies the intentional inter-departmental collaboration needed to implement sustainability projects that expand recreational and nature opportunities for residents and reduce flooding, all while conserving taxpayer dollars," said Joel Howrani Heeres, Detroit's Sustainability Director. "It contributes to numerous actions prioritized in the Detroit Sustainability Action Agenda, such as renovating parks and creating neighborhood-scale green infrastructure projects."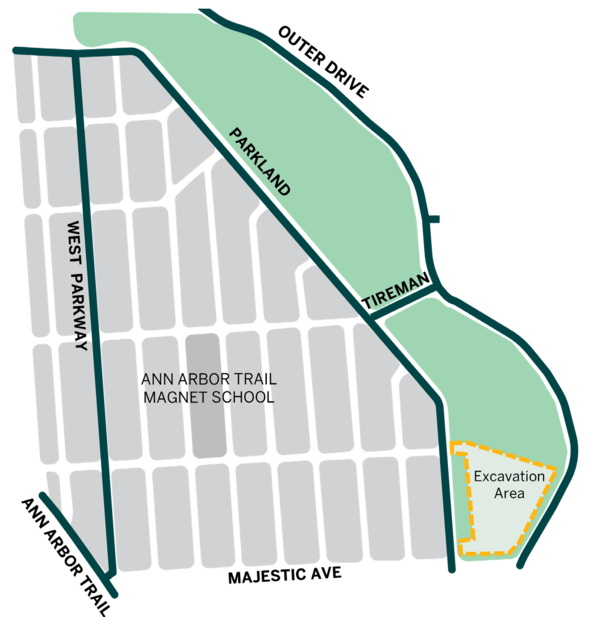 Location of excavation area in Rouge Park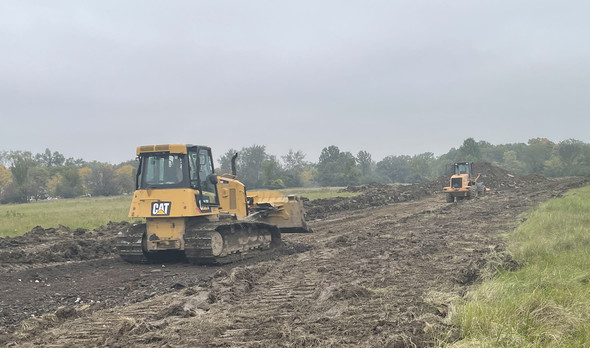 The soil excavation is underway to kick off the stormwater project and use for Riverside Park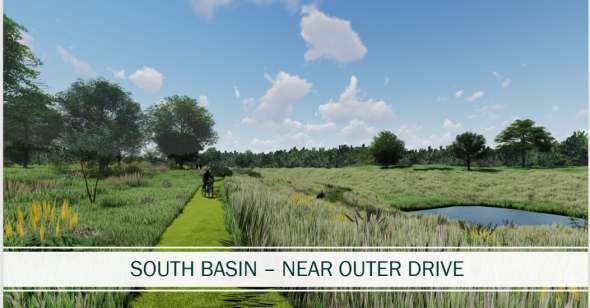 Rendering of proposed stormwater retention basin in Rouge Park