Detroit unemployment rate drops below 7% for the first time since 2000; 6.4% November rate is 22-year low
The National Bureau of Labor Statistics has released the November unemployment figures, showing Detroit's unemployment rate had fallen to 6.4% in November.  That marks the first time since December 2000 that Detroit's unemployment rate fell below 7.0%.
The numbers show sustained progress on Detroit's unemployment front from the height of the COVID pandemic in May of 2020, when the City's unemployment rate spiked to more than 38%. 
Despite the progress, Mayor Duggan said he believes even more progress is possible.  "Detroit at Work currently has more than 8,400 jobs available today.  For the first time in my lifetime, we have a job available for every Detroiter who wants one."
Detroit's trend of a continued strengthening economy is based largely on its ongoing success attracting good paying jobs to Detroit.  In 2023, the city is expected to add another 1,200 jobs at the Amazon distribution center at the state fairgrounds and break ground on a new employment center at the site of the former AMC headquarters, expected to provide up to 400 new jobs. Lear's new seating facility on the site of the former Cadillac Stamping Plant also is expected to reach full employment of at least 400 in 2023.
City's Workforce Programs provide spectrum of training
Nicole Sherard-Freeman, the mayor's Group Executive for Jobs, the Economy and Detroit at Work, said the city's unemployment numbers continue to improve in large part because of broad spectrum of training and other supportive services that are helping Detroiters be prepared for the 8,400 opportunities currently available.  The city's workforce development program, Detroit at Work, helps create career opportunities for Detroiters at all levels of education, experience, and skills, and to give employers access to a highly qualified talent pipeline.  
Today, dozens of free training programs are available at www.DetroitAtWork.com in the following areas:
Construction/Skilled Trades
Health Care
Information Technology
Manufacturing
Transportation
Hospitality
Detroiters also can call 313-962-WORK or visit any of the 9 Detroit At Work career centers across the city to learn more or to get enrolled.
Karen Banks was unemployed when she turned to Detroit at Work, and was hired soon after by Majorel, a Fortune 500 Company who recently announced the opening of a Detroit office and a commitment to prioritize hiring Detroiters. Banks said, "Working for Majorel is a unique experience. They are very welcoming. I am excited and looking forward to growing within the company."
"Ultimately, the talent is what brought us to Detroit," Gus Gikas, Majorel's Vice President of Operations for North America, said. "You can train employees on the technical side of customer service, but success in this role takes compassion, a collaborative attitude, and positive thinking. Detroit at Work has outperformed our expectations and helped us get up and running with a pool of Detroiters who possess these qualities. We currently have over 575 team members and this would not have been possible without the strength of our partnership with Detroit at Work!"
Hundreds of local companies are hiring today, right here in the City of Detroit. These companies say the Detroiters they are bringing in through the Detroit at Work talent pipeline are exceeding their expectations.
Featured programs
 Learn to Earn 
Detroiters can earn their Diploma or GED while receiving a stipend and explore their options for training or new job opportunities immediately after graduating.
With 20 hours per week participants can earn a GED/diploma in as little as 4-6 months.
They can also build skills that help find a new or better job after earning a GED/diploma. A career coach helps participants explore training and career options.
The program includes a weekly stipend for up to 6 months.
Other support available includes a laptop, internet access and help with transportation, and referrals to childcare.
Skills for Life
Skills for Life is a program launched by the mayor at the end of 2021.
If you're a jobseeker, Skills for Life has two ways to help your career path.

You will have the option, two days a week, to attend GED prep or Skills Refresh to complete your education or pursue a training certification.
You will also work with the City of Detroit's General Services Department the other three days a week, learning valuable skills to add to your resume.

These positions start at $15/hr. and after graduation, you'll be able to earn up to $20-25/hr. 
JPMorgan Chase
JPMorgan Chase launched its new virtual call center in Detroit's Corktown neighborhood – the very first in the U.S. – expanding their already proven commitment to Detroit and Detroiters. 
Using Detroit at Work as their sole talent sourcing provider, they have hired 50 new employees to work as full-time, work-from-home account specialists and account supervisors, with starting wages of $22.50 per hour and an annual benefits package worth about $16,000. 
More hires are expected as operations grow.  
The new call center also provides an opportunity for Detroiters with a criminal background. Recently, JPMorgan Chase has removed all questions about criminal backgrounds from job applications. Second Chance hires represent approximately 10 percent of Chase's new hires in the U.S. over the last three years.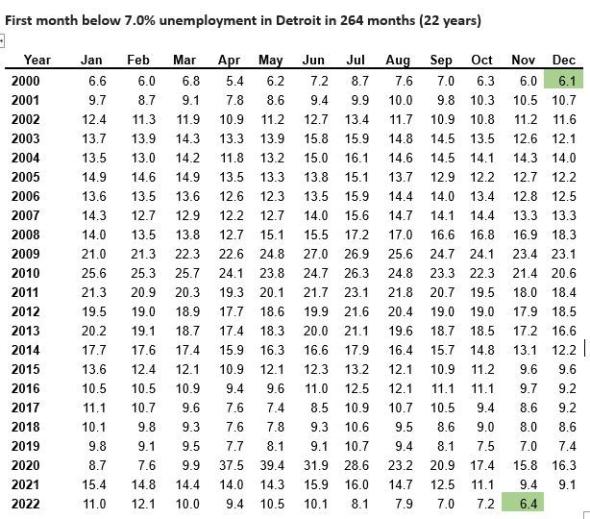 About Detroit at Work
Detroit at Work is the City of Detroit's workforce development ecosystem that works to strengthen Detroit's talent pool, create career opportunities for Detroiters at all levels of education, experience, and skills, and give employers access to a demand-driven talent pipeline.
Detroit at Work offers residents and employers a centralized resource for all workforce development resources, including a career center network, recruitment services, workforce insights, training programs and strategic partnerships with community-based organizations. 
The Detroit at Work website at https://detroitatwork.com/ is a centralized online portal sharing information with Detroiters to help them find employment, advance their career through training, or access a range of supportive services. Employers can partner with Detroit at Work to recruit, train, and retain qualified residents for open positions.  Detroit at Work is powered by Detroit Employment Solutions Corporation and implements the vision of the Mayor's Workforce Development Board.