City, Detroit ACE mourn the death of Tuskegee Airman and National Hero Lt. Col. Alexander Jefferson, retired
City, Detroit ACE mourn the death of Tuskegee Airman and National Hero Lt. Col. Alexander Jefferson, retired
DETROIT - Celebrated Tuskegee Airman and lifelong Detroiter Lt. Col. Alexander Jefferson has died at the age of 100. The City of Detroit honored Jefferson on his 100th Birthday in November and shared the news of plans to construct Lt. Col. Alexander Jefferson Plaza in his honor in Rouge Park where he played a child.
Born in Detroit in 1921, Jefferson served the country as a Tuskegee Airman during World War II and a prisoner of war.  After the war, he came back to Detroit to work as a science teacher and later a principal.
"Col. Jefferson not only represented the best of Detroit and our nation, he represented the very best of humanity," said Mayor Mike Duggan.  "As a member of the Tuskegee Airmen, he helped to win the war, and despite spending eight months as a prisoner of war, he emerged with his same kindness and generosity of spirit. He came back to Detroit to continue his service as an educator and made a lasting impact on countless young lives. He is profoundly deserving of the recognition he will receive when the plaza named in his honor opens next year. Our city and our world are better places because of Lt. Col. Alexander Jefferson."
The Tuskegee Airmen were primarily African American fighter and bomber pilots and airmen who fought in World War II.  Jefferson was a member of the 332d Fighter Group of the United States Army Air Forces (USAAF), which included navigators, bombardiers, mechanics, instructors, crew chiefs, nurses, cooks and other support personnel.
The 332nd Fighter Group, which originally included the 100th, 301st and 302nd Fighter Squadrons, was the first black flying group. In April 1943, Jefferson received orders to report to Tuskegee Army AirField to begin flight training. He graduated as a second lieutenant in January 1944 and was classified as a replacement pilot for the 332nd Fighter Group. In June 1944, Jefferson's orders sent him to Ramitelli Air Base in Italy, where Colonel Benjamin O. Davis was the 332nd Fighter Group Commander. Jefferson flew 18 missions before being shot down and captured on August 12, 1944. He spent eight months in the POW camp at Stalag Luft III. He was not freed until April 29, 1945, but kept in touch with Italian allies and friends up until his death.
Rochelle Riley, Director of Arts and Culture for the City, and a former columnist who wrote extensively about Jefferson over the years during her time at the Detroit Free Press, called him an American hero, "The lieutenant colonel represented the best of our country, of our state and of our city," she said. "He was one of the smartest people I'd ever met, a great raconteur whose stories made me swell with pride. He helped save the world, and I am so glad that I was in a position to honor him. My heart is broken."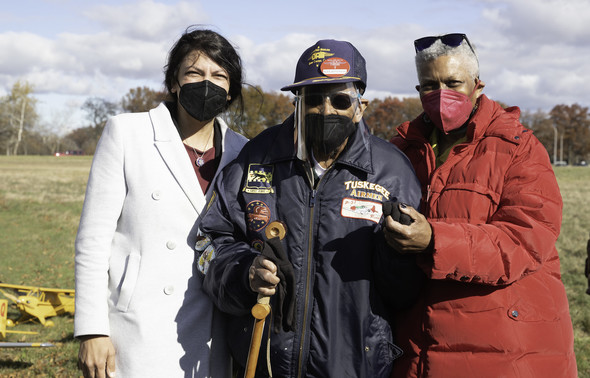 In addition to the rededication of Jefferson Field last November, Riley joined the Detroit Tuskegee Airmen chapter to host an event last fall where hundreds of people drove by Jefferson in front of the Tuskegee Airmen statue to salute, wave and wish him happy birthday. He insisted on standing and stayed until every person had a chance to say hello.
Jefferson was born on November 15, 1921, in Detroit, the first child of Alexander Jefferson and Jane White Jefferson. His great-grandfather William Jefferson White was born to an enslaved woman and a white slave owner in the 1830s. Jefferson's grandfather became a minister, and in 1867, opened an all-black school for boys in Augusta, Ga. that trained its students exclusively for the ministry and pedagogy. Jefferson's grandfather moved the school to Atlanta, and changed the changed the name to Atlanta Baptist Seminary, then Atlanta Baptist College. Today, it is known as Morehouse College.
Jefferson grew up in a Polish neighborhood and attended Craft Elementary School, Condon Intermediate School and Chadsey High School. While in school, Jefferson spent most of his time in the biology and chemistry laboratories, at home reading from his mother's extensive library or on the field that now bears his name, building model airplanes. He graduated from Chadsey High School in 1938 as the only African American student to take college preparatory classes. He received his B.A. degree in 1942 from Clark College in Atlanta. On September 23, 1942, he was sworn into the United States Army Reserves. He also went to work as an analytical chemist for three months before entering graduate school at Howard University.
After the war, Jefferson returned to civilian life in 1947, received his teaching certificate from Wayne State University, and began teaching elementary school science for the Detroit Public School System. Jefferson received his M.A. degree in education in 1954. He was appointed assistant principal in 1969 and served as a Detroit educator for more than 30 years. In 1995, Jefferson was enshrined in the Michigan Aviation Hall of Fame. In 2001, he was awarded the Purple Heart, and in 2007, he received the Congressional Gold Medal. Jefferson is one of the founders of the Detroit and National chapters of the Tuskegee Airmen.
The City Office of Detroit's Office of Arts, Culture and Entrepreneurship (Detroit ACE) has just signed a contract with Michigan Recreational Construction, Inc., a Detroit company specializing in commercial park and playground construction in Michigan and surrounding states, to build the Lt. Col. Alexander Jefferson Plaza on Jefferson Field in Rouge Park. It was on this field that Jefferson flew model airplanes as a boy.
The ACE contract was signed just hours after Jefferson died, but he had been told of the progress on the plaza. The City honored Jefferson on his 100th birthday last November on the site of the plaza, which will honor his heroism in World War II as a part of the Tuskegee Airmen. The plaza is possible because of the generosity of the Edsel and Cynthia Ford and the Ford Foundation.
MRC is expected to begin construction on the plaza next month. In business since 1998, MRC has completed more than, 3,000 playground projects, 20 splash pads, 150 fabric shade structures and 60 shelters and pavilions and more than 20 child development centers on US military bases.