$5.4M redevelopment of 2 vacant Jeff-Chalmers buildings to create 23 residential units, over half affordable
Empty buildings within one of Mayor's 10 Strategic Neighborhood Fund areas to be brought back to life
50/50 partnership between Shelborne Development and East Jefferson Development Corporation (EJDevCo)
12 units across both buildings to be affordable for residents making $30,000 or less
Two long-vacant buildings on Marlborough Street in the Jefferson Chalmers neighborhood will see new life with Jefferson East Incorporated (JEI), a community-based neighborhood nonprofit, and Shelborne Development announcing the start of renovations on a $5.4 million redevelopment of the buildings. The project will add 23 new residential units to the neighborhood, over half of which will be affordable, at approximately $800 a month for residents making about $30,000 annually or less.
JEI through its wholly-owned development subsidiary, EJDevCo and Shelborne Development, in partnership with the City of Detroit, will rehabilitate the Marlborough Building, just north of Jefferson and the IDAO Building, just south of Jefferson. The rehabilitation of the two buildings comes as the city continues its neighborhood planning effort in Jefferson Chalmers, one of ten Strategic Neighborhood Fund areas. Led by the city's Planning and Development Department and the Department of Neighborhoods, the effort gathers residents' feedback and will create a plan for physical improvements in the area in partnership with the neighborhood.
The work follows the announcement of $35 million in donations from seven corporate partners to the Strategic Neighborhood Fund to support parks, streetscapes, single family housing, commercial corridor development and affordable housing.
"JEI has been focused on preventing displacement by creating inclusive development opportunities that benefit the neighborhood's residents and businesses. Through JEI's collaborative partnership with Shelborne Development combined with the support of the City, we are excited to deliver on an need residents have expressed to us throughout the years", stated Josh Elling, CEO of JEI. "There is a waiting list for affordable, multi-family units in the neighborhood.
Vacant for more than three decades, the renovation of the Marlborough apartment building in Jefferson Chalmers will introduce new affordable and market rate housing to the neighborhood and preserve a key asset in the historic district. The 5,619 square foot building was constructed in 1927 and was originally used as residences. Once complete, the development will provide 15 new units of housing for residents at a range of incomes.
The project will also renovate the long vacant IDAO Building, further preserving the historic character of the neighborhood. The 3,920 square foot IDAO Building, also constructed in 1927, will add eight new units of housing to the neighborhood and include a similar mix of incomes.
"We are proud to continue our deep long-term commitment to revitalizing the neighborhoods of Detroit through the development of beautiful historic buildings such as these," Kathy Makino-Leipsitz, owner of Shelborne Development. "Our team is dedicated to strengthening communities by creating quality housing options and community-centered retail and commercial spaces."
Building neighborhoods for everyone
Over half of the units across both buildings, a total of 12 units, will be affordable for a single-persi=on household making about $30,000 or less, with 8 in the Marlborough and 4 in the I.D.A.O. building. Affordable units will range between $800 a month for one-bedroom apartments and $950 a month for two-bedroom apartments.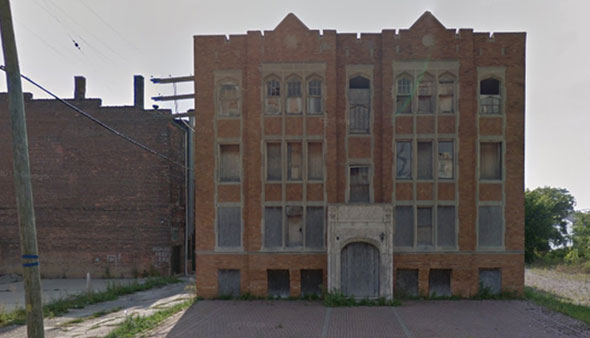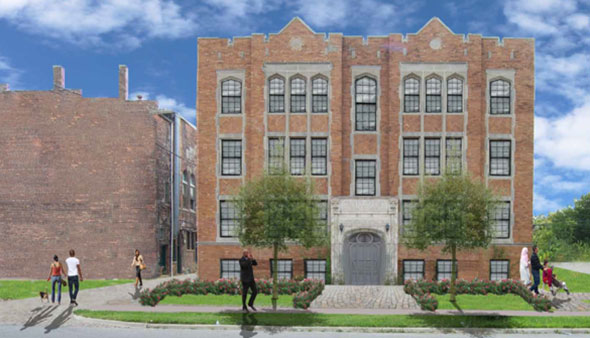 Marlborough Building, before and after
As more development moves into neighborhoods, the City is taking proactive steps to include affordable housing to ensure residents aren't displaced. Steps include passing the Inclusionary Housing Ordinance which requires projects that receive direct public investment to set aside at least 20 percent of units for affordable housing for residents making up to $38,480 and establishing a $250 million Affordable Housing Leverage Fund to preserve 10,000 affordable units and build 2,000 more.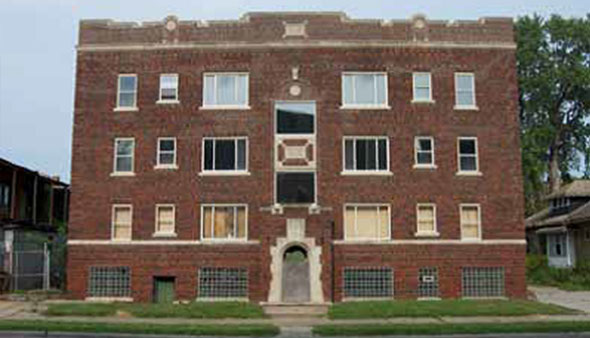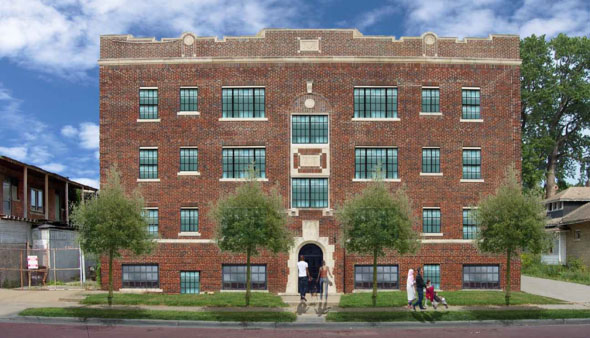 IDAO Building, before and after
"Ensuring that we have affordable housing throughout the city is what we are talking about when we say we are building one city," said Mayor Mike Duggan. "Whether it's downtown in some of the most densely populated areas, or in our growing neighborhoods like Jefferson Chalmers, we are creating spaces for people of all incomes and we're doing it in a way that engages the long-time residents of those areas."
Planning for those who stayed
The redevelopment of the two buildings coincides with the city's Jefferson Chalmers Neighborhood Planning, an effort supported by the city's $130 million Strategic Neighborhood Fund. The planning is led by the city's Planning and Development Department and Department of Neighborhoods to create a community driven framework for physical improvements in the area. The plan will make improvements to parks, streetscapes, single family housing and fill vacant storefronts and lots along commercial corridors. The planning will align community groups, city departments and other residents to identify priorities in these areas and focus available resources onto those improvements.
Building upon previous neighborhood studies, the City will work directly with residents to boost economic development, make zoning recommendations, and preserve neighborhood character and historic structures, like the Marlborough and I.D.A.O. Buildings.
So far, officials from the planning and neighborhoods departments have met with hundreds of residents over dozens of meetings to gather feedback and make recommendations. The city held three large community meetings throughout the year, and met with smaller community groups and block clubs to gather feedback, refine ideas and prioritize implementation of strategies by early 2019.
The ongoing process is expected to be complete by mid-winter but residents can still get involved by visiting detroitmi.gov/PDD or by contacting their district manager directly.
Earlier this month, Mayor Mike Duggan joined leaders from seven local and national corporations to announce $35 million in donations to support similar neighborhood improvements in nine more areas and invest in affordable housing citywide. The $35 million commitment is the largest corporate donation to neighborhood development in Detroit history. It is expected to leverage another $70 million in private investment, for a total of $105 million of new investment
Partners and Timeline
The development was made possible through a partnership between EJDevCo, the development arm of Jefferson East Incorporated and Shelborne Development, with support from the Kresge Foundation, Enterprise Community Loan Fund, The City of Detroit and historic preservation tax credits. Construction is now underway and will continue through 2019. The project is expected to be complete by Fall 2019.