Mayor's Initiatives and Programs
ShotStoppers: Community Violence Intervention
Detroit is investing $10 million in preventing violent crimes through community engagement, learn more here.
For many years, Detroit residents have faced unacceptably high levels of violent crime. Families deserve to feel safe in their communities, and the City of Detroit is investing ARPA funds to 1) prevent violence before it happens and 2) respond forcefully to violent crimes.
That's why Detroit is launching the new ShotStoppers: Community Violence Intervention program.
Program Summary
Through the program, the City will partner with 2 – 4 local activist groups with a strong history of working on violence prevention. Each group will spend two years focused intensely on serving a specific, targeted area in neighborhoods that have seen the highest levels of violence.
Importantly, the City will also pay each group for the results it achieves. Groups that successfully reduce homicides and shootings will earn performance grants that can double their annual budget.
Community groups will develop a plan for how to reduce violence based on their knowledge of the local community; actions may include engaging with individuals most likely to commit violent crimes, stopping cycles of violence and retaliation, and addressing the economic and neighborhood conditions that contribute to crime.
Community groups are strongly encouraged to partner with a fiduciary organization to administer the grant: a list of organizations that may be willing to serve as fiduciaries and their contact information is available here.
Application Information
Applications are now open for community-based organizations or groups of organizations to submit applications to provide community violence intervention services.
The application window will close on April 10th and the City will begin selecting applicants after that date.
On March 15th at 4:30 pm, the City will host an informational session where interested organizations will be able to get questions answered and get assistance navigating the application process.
In order to apply, community-based organizations should take the following steps:
Register for a Unique Entity ID with SAM.gov
Register as a City supplier at www.detroitmi.gov/supplier
Submit an application through the City's system at www.detroitmi.gov/supplier
Affordable Housing for Detroiters
Mayor Mike Duggan and Detroit City Council Members Mary Waters, Latisha Johnson, and Angela Calloway have developed a 7-point, $203 million plan to develop affordable housing options for Detroiters to be funded in 2022.
The plan includes converting long-vacant apartment buildings and Land Bank homes into affordable rental housing, additional housing support resources, getting faster City approval for deeply affordable housing projects, down payment assistance to increase home ownership, help for landlords to bring their rental properties into compliance, rapid-placement for good-paying jobs and more.
Bridging Neighborhoods Program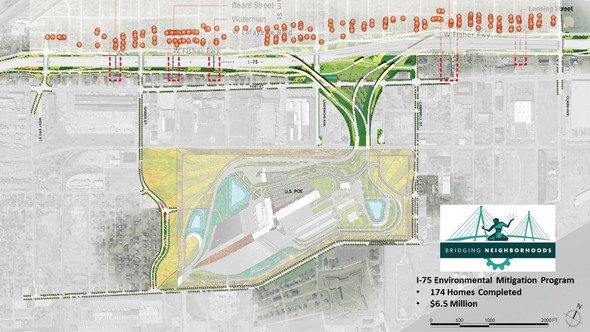 The Bridging Neighborhoods Program administers the Home Swap and I-75 Environmental Mitigation community benefits programs for residents impacted by the Gordie Howe International Bridge in Southwest Detroit and community benefits funded home repair programs including the Ford Home Repair program and Phase II of the FCA Home Repair program. 
Roosevelt Park
When completed in spring 2023, the currently 9.5-acre park will grow to 13 acres after the road removal and reconfiguration. It also will include a promenade connecting Michigan Avenue to The Station, a new pedestrian gateway entrance at Michigan Avenue, key neighborhood entryways and walkways, plaza spaces, event lawns, benches and tables for seating and landscaping. The newly-unified park will serve as an amenity, not only for southwest Detroit residents but also for the 5,000 workers who will be employed at Michigan Central.  
"One of the biggest things driving our city's revitalization is what we've done to create more and better parks and green space in our neighborhoods," said Mayor Duggan. "In this area of Southwest Detroit alone, we just broke ground on the Southwest Greenway portion of the Joe Louis Greenway and the incredible Ralph C. Wilson Centennial Park along the west Riverfront. This transformation of Roosevelt Park will be another major benefit to residents and visitors of this area of southwest Detroit."
Grow Detroit's Young Talent 2022
The Grow Detroit's Young Talent (GDYT) program is in its eighth year and has now surpassed the milestone of over 60,000 summer job experiences created for Detroit youth.
"After two years of having to launch the GDYT program at smaller events due to COVID-19, it's great to be able to hold our launch announcement back in the neighborhoods again this year," said Mayor Duggan. "The launch of GDYT is one of my favorite events of the year, as the program showcases and grows the talents of youth who will be our leaders 10, 20, 30 years from now. With over 8,000 summer job experiences this year, we are making our 60,000th GDYT summer job available in 2022."
Neighborhood Beautification Fund
The NBP grants provide funding for Detroit-based neighborhood associations, block clubs, faith-based organizations, and nonprofits that currently own the property where they want to carry out a project in the community. The Neighborhood Beautification Program was created to support three types of projects:
Clean-up activities
Community gardens
Public spaces/activities

For those hoping to beautify their community but do not own the land, the NBP will assist organizations with purchasing or leasing vacant lots owned by the Detroit Land Bank Authority. Up to 50 projects a year will receive funding.
"Detroiters are proud of their communities and want to roll up their sleeves and beautify the streets they call home, they just need financial help to do so," said Mayor Duggan. "These grants are a great example of how the City of Detroit is partnering with residents to help beautify their neighborhoods."
City Council President
Off