Mayor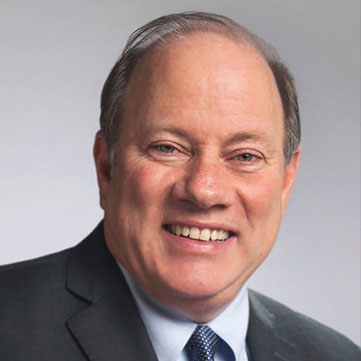 Mike Duggan
Mike Duggan was elected as Mayor of Detroit on November 5, 2013 and took office on January 1, 2014.   As Mayor, he governs the city of his birth and where he spent the previous 32 years of his career collaborating with others to solve some of the city's most vexing issues.
While Mayor Duggan was elected largely on his track record of leading successful large-scale financial and operational turnarounds, Detroiters responded strongly to his deep love for the city, which can be seen in his work over the years.  During his career he has taken on challenges and untangled problems that directly impact the quality of life of Detroiters, including access to health care, public transportation, crime, blight, expanding recreational opportunities in the city, job creation and more.
His immediate priority as Mayor has been to implement a coordinated strategy to address the numerous challenges residents have faced over the years, most notably, blight, public lighting, transportation and public safety.
During his first year in office, the city has made significant progress in each of these areas, although he is the first to admit that much work remains.  Thanks to new partnerships with Detroit City Council, as well as in Lansing and Washington, D.C., the city now is removing blight at a record pace, has installed more than 35,000 new LED streetlights, secured the purchase of 80 new DDOT buses through federal funds and significantly reduced both police and EMS response times.
To achieve these initial successes, Mayor Duggan has done as he always has: First listen to workers and residents, who best understand the problems and partner with unions, employees, community organizations, business leaders and others to develop sustainable solutions.  At the center of these solutions is a culture of accountability that begins with the Mayor and his leadership team and extend throughout all levels of city government.
As city finances stabilize and services continue to improve, the Mayor is now focusing his energies on economic growth in the city and creating pathways to opportunity for Detroit residents.  His ultimate goal is to reverse the 60-year population decline that began around the time he was born.
As a young boy, Mayor Duggan lived on Stansbury near Fenkell and Schaefer on the city's west side and attended Catholic Central High School when it was still in the city on W. Outer Drive.   While most of his friends were leaving Michigan to attend college in places like New York and Chicago, Duggan was committed to staying in the Detroit area, and attended the University of Michigan in Ann Arbor for his undergraduate studies and law school.
Mayor Duggan is humbled to have the opportunity to help restore the city of his childhood to new greatness.   Duggan's first job out of college was at a law firm in downtown Detroit, to which he rode the bus to work every day until he could afford his first car.  He later was hired to work in the Wayne County law department and before long was tapped to serve as Deputy Wayne County Executive under Ed McNamara from 1987 through 2000.
It was in his role as Deputy CEO that Duggan's management skills and commitment to his hometown began to display themselves.
During his tenure Duggan oversaw 14 straight balanced budgets and a fully funded pension system, led the effort to bring the Detroit Lions back downtown, Co-chaired the construction of Comerica Park and Ford Field, and negotiated the deal with the Clinton Administration that led to the construction Metro Airport's spectacular midfield terminal.
During this time he also stepped in to run the SMART bus system, which was facing the threat of shutting down.  In three years, he turned around the organization's finances and partnered with unions to improve reliability, expand service in Detroit and increase ridership.
As Wayne County Prosecutor from 2001-2003, Duggan led efforts to reduce gun crime and to address the problem of vacant homes across Detroit by seizing 1,000 abandoned homes and selling them to new owners who fixed them up and got them reoccupied.
Before running for Mayor, Duggan again partnered with workers and unions to lead the Detroit Medical Center out of near bankruptcy and back to profitability in his first year (2004).  Today, the DMC is undergoing $850 million in new construction as part of a deal Duggan negotiated as CEO.
Duggan ran his 2013 mayoral campaign on a platform that "every neighborhood has a future." During the campaign he spoke directly with nearly 20,000 Detroiters at the 250 gatherings he attended in living rooms, coffee shops, barbershops and salons, as well as church halls. It was out of these intimate meetings that Duggan's vision for the city crystallized.
Duggan says that as Mayor, he will continue to be accessible and will host frequent community conversation to help him keep in touch with Detroit residents, their needs and their evaluation of the city's progress.
Duggan and his wife, Lori, are the proud parents of four adult children, Mary, Eddie, Carolyn and Patrick.
City Council President
Off