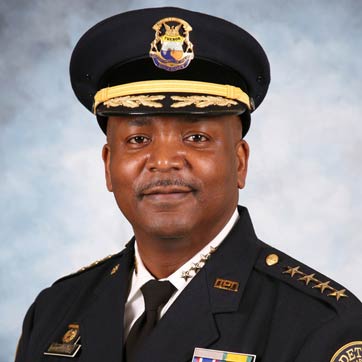 James E. White
James E. White, a 24-year veteran at the Detroit Police Department, served as Assistant Chief since 2012 and in leadership positions for most of his tenure. White led the Detroit Police Department's efforts to be released from two decade-long federal consent agreements, which required the implementation of policies, training and processes to protect the constitutional rights of citizens DPD officers engage or detain.
A firm believer in departmental diversity and inclusion, White also established a Civilian Advisory Committee to help bridge the gap between civilians and sworn members within the department. He also worked to ensure that returning citizens had opportunities for employment within the Detroit Police Department in certain non-sworn capacities.
White left DPD in August 2020 when he was named Director of the Michigan Department of Civil Rights by the Michigan Civil Rights Commission and served as a member of Gov. Gretchen Whitmer's cabinet. White was tapped for that role because of his track record of civil rights leadership at DPD.
White, who is a state licensed mental health counselor, has stated his commitment to look after the well-being of officers on the force who face difficult daily challenges.
City Council President
Off