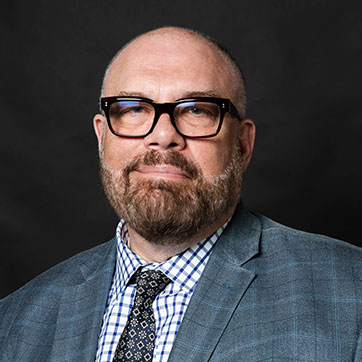 Brad Dick
Mayor Mike Duggan appointed Brad Dick as Chief Operating Officer in March 2023. In this role, Dick will oversee multiple City departments, including the Department of Public Works, General Services Department, Water & Sewerage Department, Demolition Department, Municipal Parking, Detroit Building Authority and more.
Over the past eight years, Dick has played a central role in the Mayor's "Blight to Beauty" efforts.  As Group Executive for Services and Infrastructure, Dick led the revitalization of more than 150 City parks and multiple recreation centers, the effort to clear more than 2,000 overgrown alleys, and the City's new commercial corridor cleanup effort.  He also has overseen the City's public mural programs, which have placed Detroit among the top mural cities in the nation, as well as maintenance and operations at dozens of City buildings, including all police and fire stations.
Prior to his appointment as Chief Operating Officer, Dick served as the Deputy Director of the General Services Department (GSD), when it was created in July 2006.  In May 2011, he was promoted to GSD Director, and then promoted to Group Executive in May 2018. 

His career spans private and public service, and crosses cultures. His employers have included MSX International, Ford Motor Company, and the Bartech Group. Dick also served as a foreign service recruiter with the United States Department of State and Peace Corps volunteer in Tanzania, East Africa.  He was raised on a dairy farm in Portland, Indiana.  After graduation from high school, he obtained his degree in advertising & marketing from Ball State University.  Dick is a proud resident of East English Village and committed community leader.
City Council President
Off