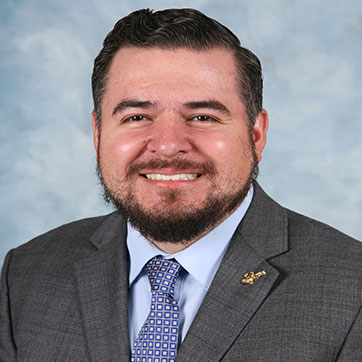 Jesus M. Hernandez
Jesus M. Hernandez is committed to the well-being and safety of our community.
     As an active parishioner at the Basilica of Ste. Anne de Detroit, his family and education have instilled in him powerful commitments to community involvement and public service. He currently serves as board treasurer for the Michigan Hispanic Collaborative, a non-profit focused on accelerating economic mobility and access in the Detroit Hispanic community. He also serves as vice-chair for Detroit MOTTEP (Minority Organ Tissue Transplant Education Program) Foundation, a Gift of Life affiliate committed to educating Detroit's multicultural community about organ and tissue donation.
     Hernandez currently works at DTE Energy, holding roles in taxation and HR consulting, and is a 2019 recipient of Corp! Magazine's Most Valuable Millennials Award. Previously, he helped advance the corporate strategic plan around diversity and inclusion at Blue Cross Blue Shield of Michigan. He is a lifelong resident of southwest Detroit and attended Wayne State University, where he earned a Bachelor of Science degree in Accounting from the Mike Ilitch School of Business.
    Appointed to serve at-large by Mayor Mike Duggan and confirmed by the Detroit City Council, Police Commissioner Hernandez joined the Board during virtual meetings in May 2020 amid the public health crisis.
City Council President
Off