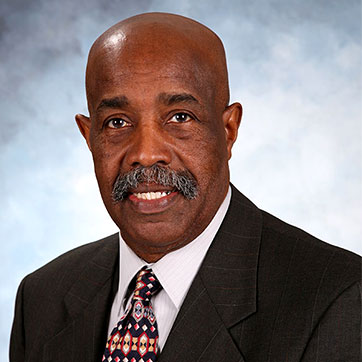 Willie E. Bell
A native of Hernando, Mississippi, Willie E. Bell migrated to Detroit at an early age and graduated from Northeastern High School. He joined the United States Army in 1966. He served in the 1st Air Cavalry Division and served in Vietnam during his Army tenure. He was honorably discharged in 1969 after attaining the rank of Sergeant.
 
In August 1971, Commissioner Bell joined the Detroit Police Department and served the Department and City for 32-years as a sworn officer. He retired in 2003 at the rank of Lieutenant. Commissioner Bell has dedicated his life and career to promoting justice, fairness, and effectiveness in law enforcement, with an emphasis on how policing impacts issues facing the community. 
 
He contributes his time and talent to youth organizations and civic and community groups, as well. He is married and the father of two daughters and two grandchildren.  
 
Commissioner Bell holds a BS degree from Central Michigan University and has lived in East English Village for over 40 years. He won election as a Police Commissioner in 2013 and re-election in 2017 for District 4, which includes the 5th and 9th precincts. 
 
His BOPC peers have selected Bell four times as Board Chair. As a national leader, Bell has served on the Board of Directors for the National Association for Civilian Oversight of Law Enforcement since 2018.
City Council President
Off