District 3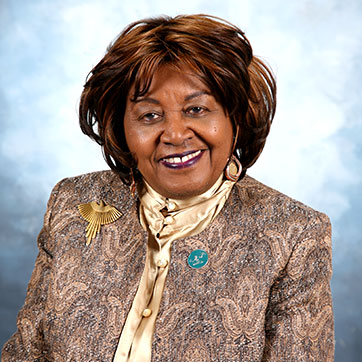 Shirley A. Burch
Shirley A. Burch is a longtime champion of safe and clean neighborhoods. Her activism galvanized community residents and businesses for improvements in northeast Detroit. In 1998, she launched CUP: Community United for Progress.
A native of Alabama, Burch was a toddler when her family moved to Detroit. She graduated from Pershing High School and as a valedictorian at the Detroit School of Cosmetology.
Burch worked with the Detroit Public Schools in the Student Transportation Department, where her achievements included organizing the outreach program, Detroit's BEST Can Do! Over the years, she has been active in the Belmont Police Mini Station and the CB Patrol for the Wayne County Sheriff's Department. She spearheaded efforts to clean up Dad Butler Park and to make it a model as an inclusive park when children of all abilities can enjoy outdoor play in a safe and clean area. Her honors include the FBI Community Service Award and the Mayor of Detroit's Outstanding Citizens Award.
A faithful member of Peace Baptist Church for 50 years, her civic involvement includes ARISE Detroit and Crime Stoppers of Michigan. She also was in the first graduating class of the Community Emergency Response Team (CERT) training for disaster preparedness. She works as the business representative for Belmont Shopping Center and in partnership with both the center and Imperial Supermarkets. Her organization – CUP – is a Greenlight partner. She also serves as chaplain of the Dequindre Good Neighbor Block Club.
Burch is married and a loving mother of three sons. She began serving as a Police Commissioner in 2018 and represents District 3.
City Council President
Off