District 2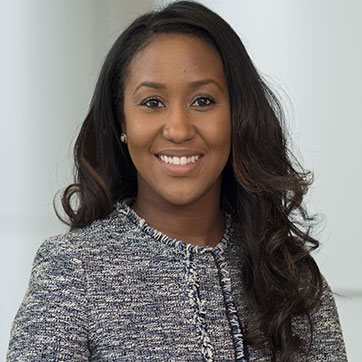 Evette Griffie
Evette Griffie currently serves as the Chief of Staff- [Customer Service] for DTE Energy. In this role, she leads the department's annual strategic planning process, provides benchmarking and industry insight to enable performance improvement, and informs the agenda for the Vice President of Customer Service.  

Prior to joining DTE Energy, Evette has held several roles in finance, as well as community and government affairs. Evette is a native Detroiter and a proud product of Detroit Public Schools.    She also attended the University of Michigan where she earned a Bachelor of Business Administration from the Ross School of Business.
Evette is very active in the community. As a mentor in the Women of Tomorrow program, she works with students at the David Aerospace Technical High School to inspire and empower at-risk young women. She is also a member of the Links Inc., one of the nation's oldest and largest women's volunteer service organizations.
In 2013, Evette was selected to participate in the Detroit Revitalization Program fellows program designed to attract and develop a new generation to lead the city's economic revitalization and development.
Evette has been recognized by Crain's Detroit  "20 in their 20's" and by the Michigan Chronicle's "40 under 40".  She has also been the recipient of the Michigan Chronicle Legacy in Motion Rising Star Award, the Detroit Young Professional Vanguard Award, and the Women's Thrive Conference Shooting Star Award .
She was appointed by Mayor Mike Duggan in December of 2018 to serve as the Police Commissioner for District 2. Police Commissioner Griffie filled the vacancy left by DMC Executive Conrad Mallett, a former at-large board member who won election in November 2017 and resigned for professional reasons in October 2018.
City Council President
Off