Detroit Demolition Department
Detroit Demolition Funding and Upcoming Project Status
Get info on demolitions around your home and in your neighborhood with a text or an interactive map. For the text messaging service, follow the steps below
Text an Address to (313) 254-DEMO (3366), to receive:
Listing of demolitions within 500 feet of address provided and the approximate demo date.
Safety Precautions and Health Tips on upcoming demolitions in their neighborhood .  Full list of Safety Tips.
Guidelines Effective June 2020
Emergency Demolitions Only
Emergency Demolitions will be prioritized when an official from the Building Safety Engineering and Environmental Department (BSEED) issues an Emergency Order to Demolish because the building is in imminent danger of collapse with an occupied structure on one or more sides or onto a Right of Way.
EMERGENCY DEMOLITION DEFINITION
Emergency Demolition Orders are issued when, in the opinion of the Building Official, conditions of a building, structure, or any part of a structure are found to be structurally unsound, unsafe, dangerous, imminent danger, and/or poses an actual and immediate threat to the health, safety and welfare of the public.  Examples may include, but are not limited to, leaning, bowing, and/or missing walls, or a building collapsed into basement leaving a void. Only Building officials from BSEED have the ability to determine if a property qualifies for an emergency demolition.
Get info on demolitions and other activity around your home and in your neighborhood with an interactive map. For the interactive map, follow the steps below
Current and Existing Contract Agreements are included.
Click on the map to activate the Neighborhood Improvement Tracker
Type in a Detroit address or intersection into the search bar and click ENTER:
Review.  The map will show a close up view of the address/intersection.
Click on the Colored Dots to view property details:
Green Dot: "Completed Demolitions" since January 2014
Yellow Dot: "Contracted Demolitions" under contract and the projected "demo by date
Purple Dot: "Own it Now" properties sold by the Detroit Land Bank thru the "Own it Now Program"
Lavender Dot: "Closed Auctions" properties sold by the Detroit Land Bank thru the "Auction Program"
Navy Dot: "Side Lots" properties sold by the Detroit Land Bank thru the "Side Lot Program"
Light Blue Dot: "Currently for sale" properties for sale by the Detroit Land Bank thru the "Own it Now Program" or "Auction" Programs
Please note the information is updated daily. 
Detroit Demolition Work Completed Since 2014
The City is focused on removing every abandoned structure in every neighborhood, but the work is only half way done. Federal Funding received from the Obama Administration has run out and the remaining funds have been contracted for demolition. This means until additional funding is secured, the City will be handling demolitions under the following Guidelines:
Do You Know a Building in the Emergency Category for Demolition?
If you believe a building poses an immediate threat to public safety please contact:
Other Safety Measures
Until demolition funding becomes available, all houses in the demolition pipeline should be boarded up. If you need to report a house reboarded, please visit Improve Detroit section, then select "Reboard House Request".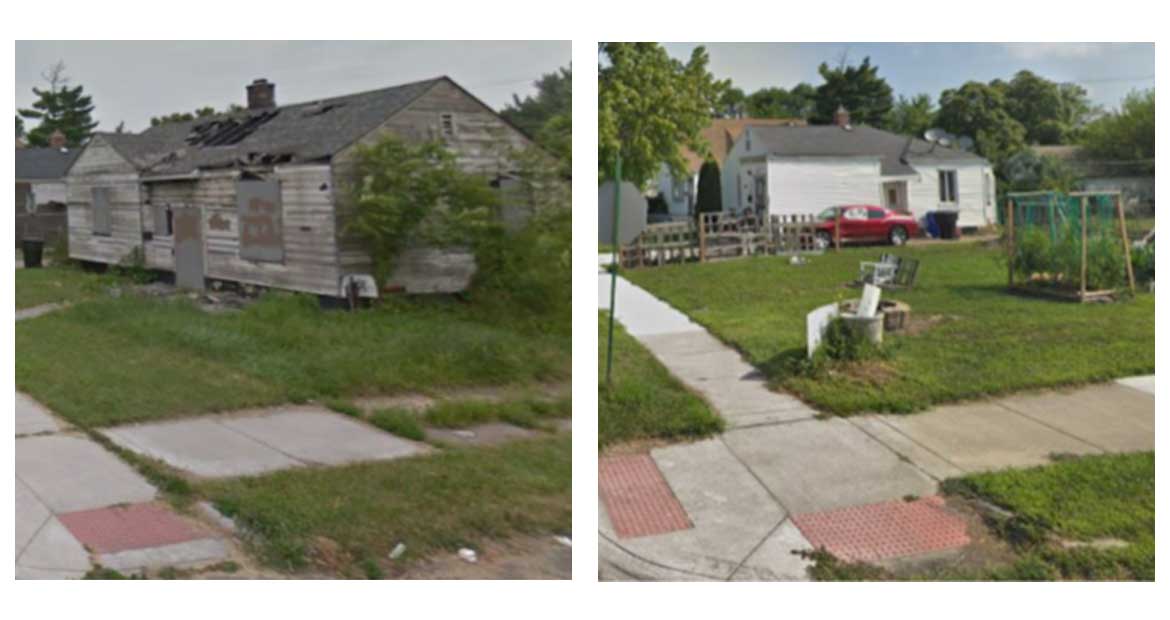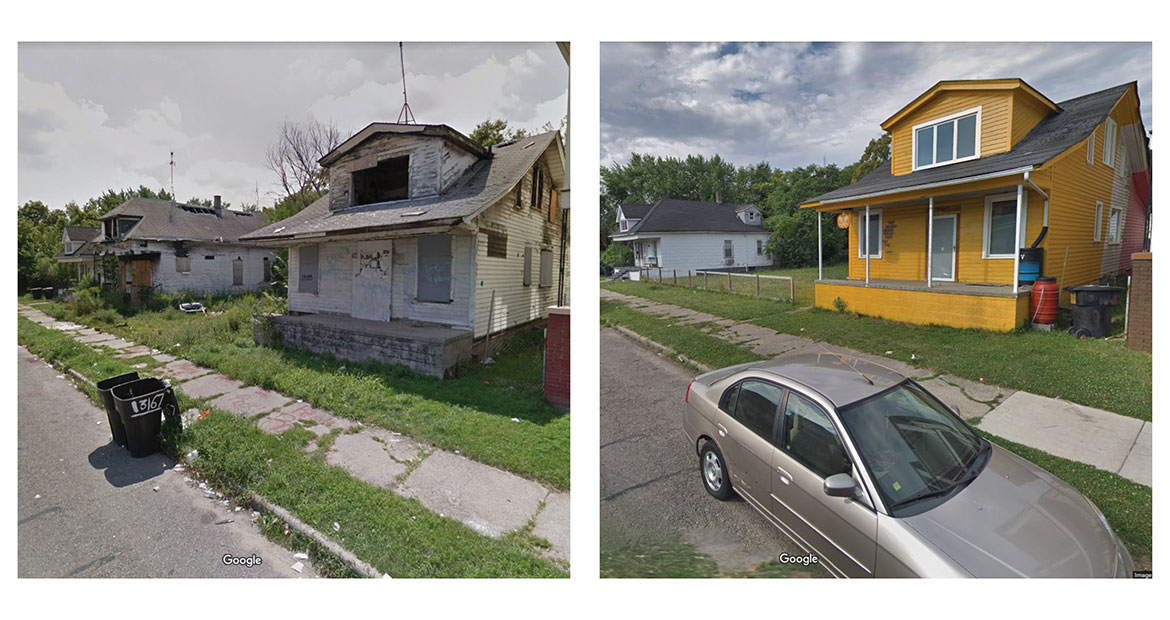 How to Get a Non-Emergency Building on the Future Demolition List?
Contract your District Manager:
Federal Designated Boundaries Determined Where Detroit Demolitions Occured
From 2014-2019, the majority of Detroit's demolition was funded through the Federal Hardest Hit Fund (HHF) dollars.  HHF funds could only be used by law, in the City's federally-designated areas. Under this program, the City could demolish publicly-owned residential buildings (four units or fewer) in poor or structurally-deficient condition, and negatively impacted neighborhoods.
Detroit City's Demolition Program Information:
Safety is Always First! As the nation's largest and safest demolition program, the city provides a text program advising residents of upcoming demolitions and safety precautions to take.
Detroit Based Business Focus! $178+ million in demolition contracts were awarded to Detroit-based and Detroit-headquartered businesses. $80+ million awarded to minority-owned businesses.
Detroit Demo Ranks High in Environmental Standards! U.S. EPA recognized the high environmental standards used, saying, "Having completed a major overhaul of the demolition process, Detroit's new demolition practices balance speed, cost and environmental performance." (September 8, 2014)
Removing Detroit's Blight! Since 2014, Detroit has taken down vacant buildings in neighborhoods.
Increasing Detroit's Property Values! A recent study shows Detroit's approach to clustering demolitions in target areas resulted in a property value increase. 90% average increase in Detroit property values (Source: Zillow 2013-2018)