Spirit Plaza
Since the dedication of the Detroit Spirit Statue in September 1958 by the sculptor Marshall Fredericks of Detroit, this Woodward block has long been a natural meeting place for the Detroiters to celebrate victories and come together for the unity. Spirit Plaza is designed to serve as the "civic plaza" of Detroit, the first public space in the city designed for all citizens to get together, get involved, learn about local initiatives and enjoy civic, culinary and cultural attractions that highlight the many Detroit voices and a unique identity.
Inaugurated in 2017, the square is currently in a semi-permanent state. As we move into a permanent state, we are actively seeking ideas for programming and using space.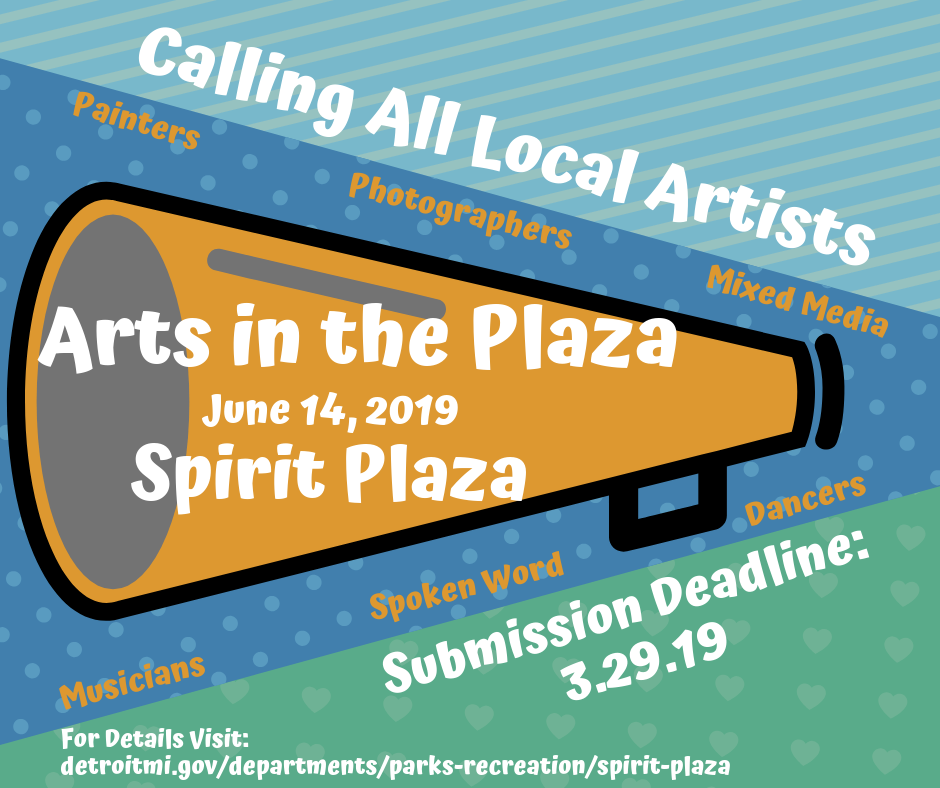 CALLING LOCAL ARTISTS FOR ARTS IN THE PLAZA
Detroit Parks & Recreation announces a call for artists for Arts in the Plaza on Spirit Plaza, the City's newest public space in Downtown Detroit
The Arts in the Plaza celebration will take place on June 14th and will be the opening event for the Spirit Plaza's Summer Season. Arts in the Plaza will feature the work of local curators and artists from across the city for a daylong event. The curators and artists will be responsible for creating exciting and thought-provoking art and will have the ability to use the public square as inspiration for creativity and draw upon the meaning of the Spirit of Detroit and civic life. We are looking for both visual and performing artists for art installations, multi-media displays, dance, spoken word and music. "Pop-up" vendors are also welcome to participate.
The event will be June 14th from 7 a.m. until 12 midnight.
Rules/Regulations
HOW TO ENTER:
Along with the completion of the application, each applicant must submit four (4) current images of their work along with a proposal/rendering of your proposed work. Please do not provide thumbnail images. It is very important that the digital images show the proportions of the work, which the artist will actually display. In addition to the digital images, a detailed description of the process involved to create your products is required, as well as a proposal for demonstrations at the event. This description and the digital images will be used during the jury process and on our website for marketing.
Performing Artists must submit a 3 minute performance video.  Application is in the Forms section of this page.  If your photo/video submission exceeds the file limit in the application, please choose the link to the Google Drive to upload supporting application submissions.
ELIGIBILITY:
Arts in the Plaza is open to all artists/craftspersons/performers who exhibit work of their own concept, design, and execution. Work which is imported, produced or manufactured will NOT be accepted. Work which is produced or manufactured from a commercial mold, pattern or kit will NOT be accepted. All works must be original. Performance artists can perform cover songs and previously choreographed pieces. All artists should consider the focus of the event and use Spirit Plaza as a foundation to create musical selection and choreography.
SELECTION:
Approximately 20 performance artists and 6-8 visual artists will be selected. Applicants will be selected on the basis of quality and uniqueness of work, NOT on a first-come, first-served basis. The number of exhibitors in each category and selection of exhibitors shall be determined by the Spirit Plaza programming committee. Final selection of participating artists will be conducted March 29-30, 2019. Acceptance notification will be sent out April 1st, and artists are required to respond by April 15, 2019.  This will act as a confirmation of your place at Art in the Plaza
DEADLINE:
Entry forms must be received by the Spirit Plaza programming committee by March 29, 2019. Late applications are placed onto a wait list with no guarantee of acceptance. Acceptance of late applications shall be determined by the programming committee. Email [email protected] about late applications.
NOTIFICATIONS:
All notifications will be sent out VIA EMAIL. Please make sure that our emails are not going into your spam folder.
DISPLAYS:
All booths are 10 feet by 10 feet in size. Each Artists must provide their own display equipment. Artists should be prepared to put up their own sunshade, wind & rain protection. No stakes, thumbtacks or nails may be used for booth display. Only tape, string, weights or adhesive materials may be used. Exhibitors are responsible for setting up and attending their work at all times and for cleaning up their exhibition space at the end the day. Exhibitors are strongly encouraged to demonstrate their craft. Electricity is available.
FOOD:
Attendees and artists will work up an appetite at Art in the Plaza. Art in the Plaza strives to provide a wide array of culinary offerings to satisfy palates of all ages. After completing this initial application, the event coordinator will email you a more specific food application. Submission deadline is March 25, 2019. Jurying will proceed and notification of acceptance will be given April 5, 2019. Arts in the Plaza will compensate food trucks/vendors for food prepared and served for the day at $7.00 per person.
NON-PROFIT BOOTH SPACES:
Arts in the Plaza will accommodates a limited number of booth spaces for local and regional non-profit organizations. Non-profit booth spaces are limited and are filled on a first-come, first-served basis. Acceptance of non-profit booth is at the sole discretion of Spirit Plaza programming committee.
KIDSPOT BOOTH SPACES:
Additionally, Spirit Plaza will provide an interactive art area for kids. If you are interested in hosting a children's art area, please complete this application.
STIPENDS:
Visual and Performance Artist will be paid a stipend. The stipend will be determined by the number of entries accepted. Upon confirmation acceptance, artists will be notified of stipend amount.
CANCELLATIONS:
CANCELLATIONS MUST BE RECEIVED IN WRITING VIA EMAIL BY May 6, 2019.
WEATHER/PETS:
No provisions have been made in case of inclement weather.
No pets are allowed, sorry. Please make alternate arrangements.
LIABILITY:
It is agreed by the Artist(s) that they assume full responsibility for any damage or loss to their exhibit from any cause. It is further agreed that the Artist will indemnify, including attorney fees and costs, and hold harmless The City of Detroit, The General Services Department, its director, staff and/or its agents from any claim or cause of action resulting from the Artist's actions or omissions.
Security will be provided in the plaza from set-up time until load out, however, there are no guarantees against theft or loss during the show and artists assume full responsibility.
EVENT COORDINATOR CONTACT INFORMATION:
Erica Hill or Kelsey Peavy
City of Detroit General Services Department/ Parks and Recreation Division
18100 Meyers Rd
Detroit, MI 48235
313-682-4203
CANCELLATIONS MUST BE RECEIVED IN WRITING POSTMARKED BY MAY 6, 2019