Tax Foreclosures of Owner-Occupied Detroit Homes Down 89% Since 2015 As Result Of Prevention Efforts
708 owner occupants at risk in 2018 compared to foreclosed 6,408 in 2015
Owner-occupied tax foreclosures expected to drop even further this year following completion of expanded right of first refusal program launched earlier this month
Officials continue to expand outreach and assistance programs  
Preliminary number released today by the Wayne County Treasurer's office  show that tax foreclosures are continuing a downward trend across Wayne County and in Detroit following aggressive efforts underway in the city to prevent foreclosures, especially owner-occupied foreclosures.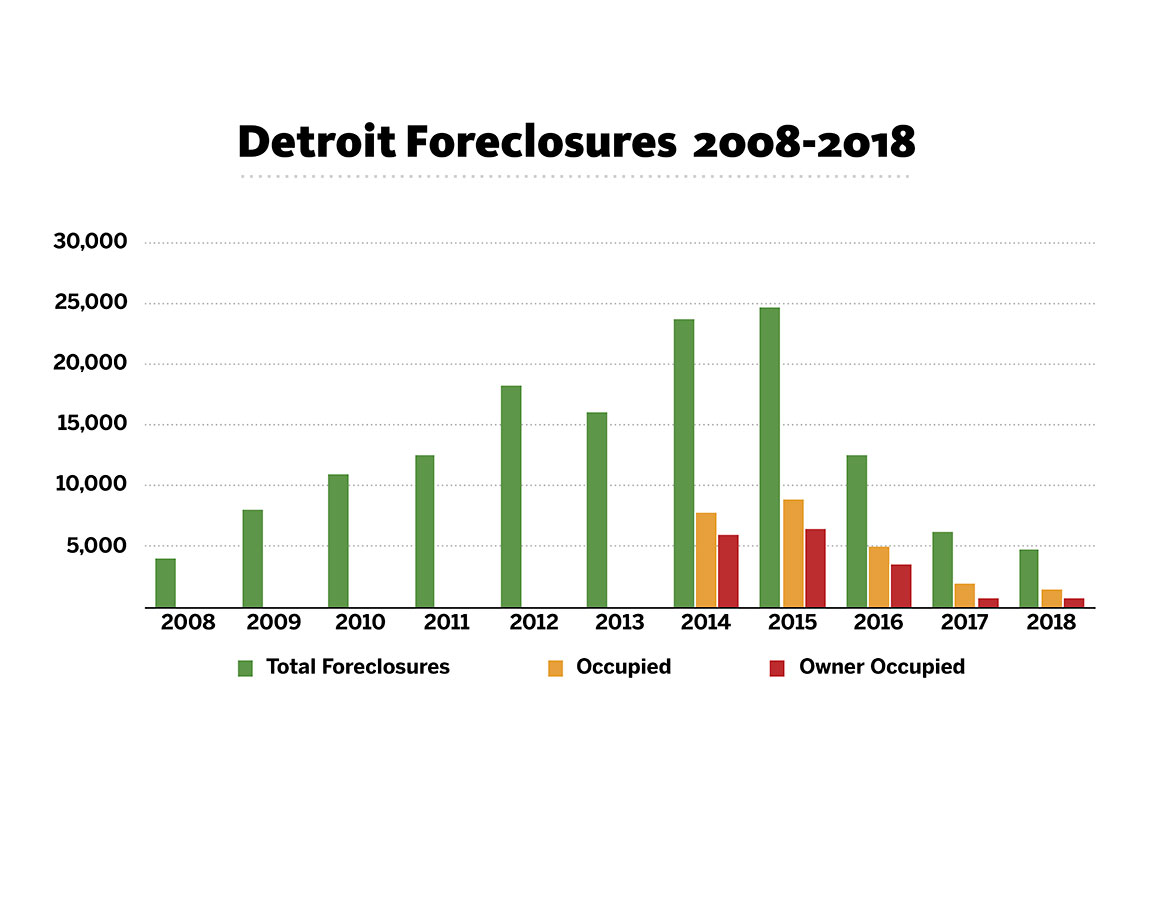 According to the data, owner-occupied Detroit homes have seen an 89% drop in tax foreclosures, falling from 6,408 in 2015 to 708 at risk this year. Tax foreclosures of all city occupied homes is down 84% since 2015, with 1,517 homes at risk this year, down from 9,111 three years ago. Overall, residential tax foreclosures (including vacant properties) are down 81% overall since 2015, down to 4,709 at risk of tax foreclosure in 2018.
In just the last year, foreclosures dropped by 26%, occupied foreclosures by 22% and owner-occupied foreclosures by 11%, continuing a year-over-year decline in all categories.  The last time the foreclosure numbers in Detroit were lower was 2008, just prior to the mortgage industry collapse, when there were 4,392 total foreclosures.
"We are working as hard and smartly as possible to help prevent foreclosures in Detroit and in all of Wayne County," said Treasurer Eric Sabree. "Each year you are seeing the results of the efforts of my office, our public and private partners in communicating with and helping people stay in their homes. We have had an unprecedented community communications effort and great partnership with the Mayor, County Executive Warren Evans and the leadership of the 42 other municipalities that comprise Wayne County. We will not rest until we reach the goal of zero owner-occupied foreclosures."
Further drop expected in August
The number of owner-occupied tax foreclosures is expected to continue to be reduced following the completion of the right of first refusal program launched earlier this month. The program, expanded after a successful pilot last year, will give up to 300 more Detroiters facing tax foreclosure the opportunity to stay in their homes.
"As Detroit comes back, we need to do everything we can to make sure those who invested and stayed in our city are able to stay in their homes. We are seeing real progress in areas that impact all of our neighborhoods, and we are excited to continue this important work," said Mayor Mike Duggan.
Efforts continue to prevent tax foreclosures in 2018
The continued decline reflects the multiple efforts underway in the city to prevent foreclosures, especially occupied foreclosures. Additional efforts include:
Expanding the Right of First Refusal program to 300 more Detroiters at risk of tax foreclosure, following a successful pilot that helped over 80 families not only avoid foreclosure and stay in their homes, but also gave those families the opportunity to become homeowners.  This week, the Mayor's office submitted a request to Detroit City Council to allow the city to receive up to $5 million to fund the expanded program.  Quicken Loans already has committed significant funding to the program.
Reaching out to thousands of households in Detroit, at least one year behind on their taxes, to help them apply for assistance programs like the reduced-interest payment plan for back taxes. With support from the Quicken Loans Community Fund, dozens of community groups have come together to knock on thousands of doors of those at risk of foreclosure to educate them about their options. As part of Neighbor to Neighbor, community groups across the city are also hosting monthly workshops that walk Detroiters through the process of applying for tax exemptions.
Proactively mailing eligible Detroiters the Homeowners Property Tax Assistance Program application, to determine whether they qualify for tax relief. Detroit's property tax exemption for low-income households can reduce or eliminate property taxes on homes, depending on the occupants' income levels and the number of people living in the home. The application is available on the City's website.
Creating the Interest Rate Reduction Program. Under the program, eligible homeowners can enter into payment plans at a reduced interest rate of 6% -- compared to the usual 18% — and pay delinquent taxes, resulting in a more reasonable monthly payment thousands of homeowners have been able to afford. Visit www.waynecounty.com/elected/treasurer for details.
A comprehensive citywide reassessment of property values, the first in 60 years, so that residential home values more closely reflect market values, which fell steeply in the aftermath of the 2008 national housing collapse and subsequent recession.