SMART, DDOT announce unified payment system: Dart, a new way to pay for public transit
Dart payment options include unlimited 4-hour, 24-hour options, weekly and monthly passes to streamline service
Dart payment system begins May 1, Dart mobile app payment to launch later this summer

Transportation and elected officials from Metro Detroit announced today a unified payment system for the region's bus systems, taking another step towards aligning SMART and DDOT. This new system, Dart, will launch on May 1. Dart will be a new way to pay for transit in Metro Detroit and make taking transit more seamless in the region for riders.
Dart passes will be available in 4-hour, 24-hour, 7-day and 31-day increments and customers will be able to use them interchangeably on SMART and DDOT buses, eliminating transfers and streamlining the number of fare options between the two systems. Reduced fare options will be available for seniors, people with disabilities, Medicare Cardholders, and youth. A Dart mobile app will be available this summer.
"The new Dart payment options will improve the experience for transit riders across Detroit and the metro region," said Mayor Mike Duggan. "Dart will bring our two systems closer together with seamless transfers and more flexible payments making riding transit easier for everyone."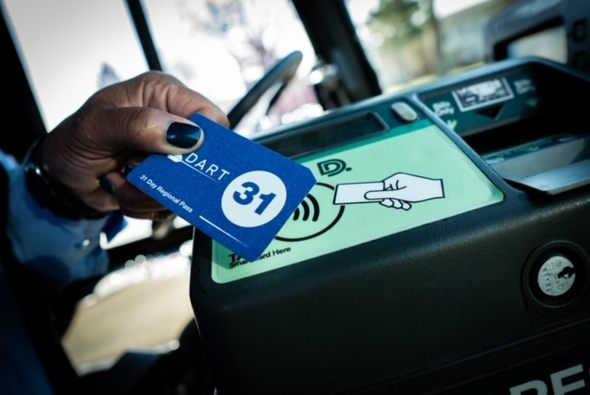 Dart: a more flexible, simple system
The Dart system will simplify the fare options for riders by eliminating transfers and the complexity of fares that exist today. With Dart, riders on either system will only have to pay once and go. The new Dart passes are designed for quicker, easier boarding and to eliminate confusion on how to pay for transit.
"This a giant step in the coordination activities which both SMART and DDOT are working together on for the benefit of the public," said John C. Hertel, General Manager of SMART, "The county executives, Warren Evans, Mark Hackel, Brooks Patterson, and Mayor Mike Duggan have done a marvelous job in supporting our efforts to make transit better for everyone in the metropolitan area."
"I applaud SMART and DDOT for this collaborative step as transit is critical to connecting people to opportunity," said Wayne County Executive Warren C. Evans. "Under the current system, transfers can be confusing and intimidating. Relieving that headache encourages ridership which is important to improving mobility and increasing transit options."
Oakland County Executive L. Brooks Patterson, stated, "Collaboration between SMART and DDOT to improve service for riders is a step toward providing a transit solution that works for the whole region, especially when it entails making the connection between the regional and city bus systems easier for individuals who rely on both to get to their jobs."
"Both DDOT and SMART have been working together to provide efficient and reliable transportation to the region" said Macomb County Executive Mark Hackel. "This is another example of why I believe these two agencies will continue to provide us with the solutions we need for regional transit."
Under the new system, riders will be able to purchase any of the following Dart passes:
A 4-hour regional Dart pass with unlimited transfers between DDOT and SMART for $2, with a reduced fare price of 50 cents for qualified riders.
A 24-hour regional Dart pass with unlimited transfers between DDOT and SMART for $5, with a reduced price of $2.
A 7-day regional Dart pass for $22, with a reduced price of $10.
A 31-day regional Dart pass, good for unlimited rides on both systems, for $70, with a reduced price of $29. The 31-day pass will also feature a tap to pay option for easier boarding.
Riders have the ability take unlimited rides on both systems, eliminating transfers and other additional fees from the previous payment systems. Dart is a rolling pass as each pass starts on the first use for the time period allotted. And for the first time, all of the new regional passes are available for reduced fare riders – seniors, people with disabilities, Medicare Cardholders, and youth - who show valid ID will have access to these reduced fares.
4-hour and 24-hour Dart passes will be available for purchase on SMART and DDOT vehicles. All Dart passes will be available for purchase through SMART/DDOT Transit Centers, select retail outlets, online or by mail starting May 1. A mobile Dart app will be launched early this summer, where users can purchase and use Dart passes directly from their phone.
It is anticipated that Dart will expand to the QLINE and the People Mover in the near future.
"Paying with Dart is going to make it much easier for Detroiters to get where they need to go. This partnership with SMART demonstrates our commitment to working together on key initiatives that have separated our systems in the past", said Angelica Jones, Interim Director of Detroit Department of Transportation.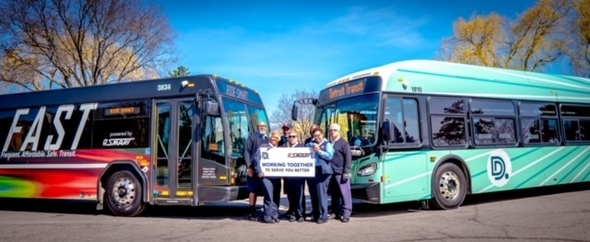 Regional transit improvements continue in Metro Detroit
Dart comes as a number of improvements have been made to the region's transit systems in recent years, including the introduction of the SMART FAST high frequency, limited stop bus service, DDOT ConnectTen service, capital improvements to both systems, and the introduction of the QLINE. This resulted in Detroit being one of seven places in the United States where transit ridership increased in 2017 according to an analysis completed by TransitCenter.
For more information on DDOT, visit http://www.ridedetroittransit.com/ or call DDOT at (313) 933-1300.
For more information on SMART, visit https://www.smartbus.org/ or call SMART at (866) 962-5515.