New 'Plan Ahead' property tax savings program to help homeowners stay current, prevent foreclosure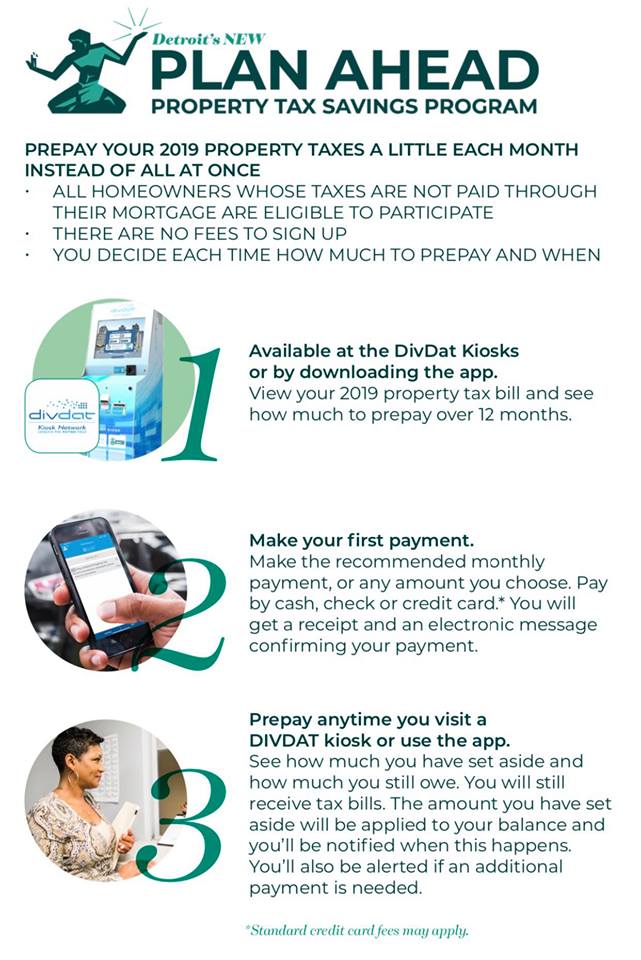 The City of Detroit is offering a convenient new program that allows property owners to set aside money each month toward their summer and winter tax bills, rather than have to come up with the money all at once.
The new Plan Ahead property tax savings program lets Detroit homeowners, who do not have a mortgage escrow account for the payment of property taxes, to begin making payments at their own schedule at more than 60 DivDat kiosks located throughout Detroit. Homeowners can use any kiosk to make payments into a savings account to help manage their property tax payments. Plan Ahead payments also can be made through the DivDat mobile app.
"Their home is the largest investment most families will ever make and we need to do everything we can to make sure those who invested and stayed in our city are able to stay in their homes," Mayor Mike Duggan said. "The Plan Ahead program can help by providing homeowners a simple and convenient way to stay current on their property taxes."
Residential property owners may — at their option — begin making monthly payments toward their City of Detroit property tax by visiting a kiosk and selecting "Property Tax." Homeowners can then instantly look up their estimated property taxes for the year. The kiosk will also display a recommended monthly payment which will spread out their payments over a year. A similar option is available on a smart phone app platform.
Who is eligible
The Plan Ahead savings program is available at no charge, although credit card processing fees will apply to those who make payments using credit cards. Taxpayers with homes or rental units who pay their own taxes directly — and not through their mortgage companies — are eligible to participate. But they must have paid all of their 2018 City of Detroit property taxes. If a taxpayer owes delinquent taxes to the Wayne County Treasurer's Office, they can still participate in the program.
"For property owners in Detroit who don't have mortgage escrow accounts or even a bank account, saving up to pay their summer or winter property taxes in one lump sum can be challenging and can put many of them at risk of being late on their taxes, or worse, at risk of foreclosure," said City Treasurer Christa McLellan. "We developed the Plan Ahead program to make it as easy, safe and secure as possible for residents to stay current on their taxes and give them peace of mind."
How it Works
Plan Ahead is available to all residential property owners in Detroit, regardless of whether taxpayers live in the home as their principal residence. There are three easy steps:
Visit a DivDat kiosk or download the mobile app to see your 2019 property tax bill and see how much to prepay over 12 months
Make your first payment
Prepay anytime you visit a DivDat kiosk or use the app
Once a taxpayer makes their first payment into their savings account, he or she is automatically signed up. Taxpayers can pay as little as $1 or the maximum amount of their estimated property tax payment, which will automatically be displayed.
The Plan Ahead Program is a City of Detroit offering, and payments can be made using cash, check or credit card. The City of Detroit Treasury, in collaboration with the DivDat Kiosk Network and Chase Bank, have established a safe, secure and easy way for property owners to create an on-line escrow program without having to go to a bank branch.
Requirements to stay enrolled
Taxpayers can make deposits into their savings accounts every month, every week or even every day, at any time, at no charge except when using a credit card. Detroit taxpayers are encouraged to make their first payment as soon as possible, and a payment must be made by May 31st to participate for the 2019 tax year. Taxpayers may exit the program at any time by contacting the Treasurer's office before the May 31st deadline.
To stay enrolled in the program, taxpayers need to keep at least $1 in their savings accounts and must deposit enough money into the accounts to cover half of the summer 2019 taxes by Aug. 15, 2019, and the second half of summer taxes by Jan. 15, 2020. Alternatively, taxpayers can deposit enough money to pay their full summer tax bill by August 31, 2019. Taxpayers also must deposit enough money into their savings accounts to cover all winter 2019 taxes by Jan. 15, 2020.
Find out more about Plan Ahead.
To find a DivDat kiosk near you, visit here.