Livernois median being removed as City begins Avenue of Fashion streetscape
1st of seven commercial corridor revitalization projects taking place in 2019 begins, funded with help of $125M bond sale in 2017
Community-driven design to include removal of Livernois median from Margareta to 8 Mile, wider & better lit sidewalks, café seating, separated bike path & landscaping
Work set to begin this month, expected to be substantially completed this November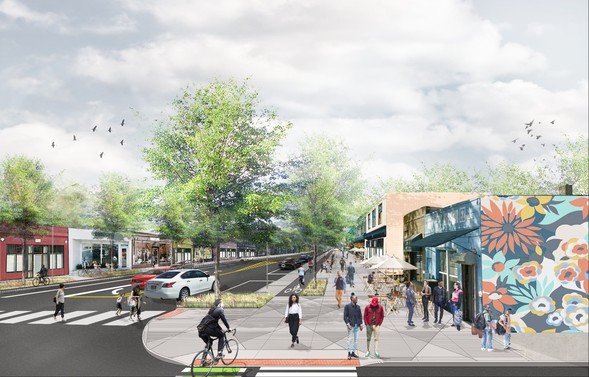 DETROIT, Michigan – Construction on the first commercial corridor revitalization project funded through a $125M bond program announced by Mayor Mike Duggan two years ago is set to begin this month.   Workers will begin removing the controversial Livernois median along the length of the project from Margareta (two blocks south of 7 Mile Road) to 8 Mile Road, which includes Detroit's Avenue of Fashion.
In 2017, Mayor Duggan announced plans to revitalize 23 key commercial corridors in the city with a goal of making them more attractive, more pedestrian-friendly, and also to attract more small businesses. The plan is part of the city's effort to recapture some of the estimated $2.6 billion dollars in spending that Detroiters do outside of the city due to the lack of quality shopping and dining options in their own neighborhoods.  
"As we continue to reinvest in our neighborhoods, a big part of that is going to be creating attractive, walkable commercial corridors where residents will be able to enjoy a range of dining and shopping options," said Mayor Duggan. "Most important is that final design was selected by neighbors in the area who took part in an extensive community engagement process."
Of the seven corridor projects that will be constructed this year, Livernois will be the first and most extensive. When completed in November, Livernois will be an attractive, business friendly thoroughfare that will be safer for motorists, bicyclists and pedestrians alike. Among its key features will be:
Travel lanes that will be reconfigured to have one lane for traffic in each direction to reduce speeds and the addition of a new dedicated center left-turn lane.
Wider 24-foot sidewalks to allow for café seating, along with new lighting and landscaping.
Dedicated bike lanes that will be at sidewalk level, as opposed to street level.
Removal of the median will provide direct left turn access to all residential streets along the corridor. On-street parking on at least one side of the street will be available.
Other options included keeping a narrower median and narrower sidewalks for additional vehicle travel lanes, however the final design was approved strongly by those residents who had attended planning meetings and voted on the final design.
Livernois Construction Phasing
The work on Livernois will take place in three key phases. 
From May to June, workers will remove the median and install a new center left turn lane. During this phase, traffic will be limited to one travel lane in each direction.  On-street parking will remain available throughout this phase.
From July through August, work on the northbound side of Livernois will take place to remove the existing sidewalks and install the new wider sidewalks, bike lanes, new lighting and landscaping.
From September until the completion of the project, similar work will take place on the southbound side of Livernois.
"The Livernois Streetscape project represents a significant opportunity to create a more pedestrian-friendly retail destination in one of the city's most historic and important commercial corridors," said Council Member Roy McCalister. "I applaud the efforts of the city's planning department and especially the participation of the many residents and business people whose input was referenced as part of this new vision for Livernois."
Avenue of Fashion will remain "Open for Business"
Livernois, which is an increasingly thriving retail district with several new businesses, will remain open to traffic in both directions for the duration of the project.  However, lane closures, the temporary removal of on-street parking and sidewalk replacement will make accessing businesses more challenging.  To help minimize the impact, the city's business district liaisons, Department of Neighborhoods district managers and City Council staff have been working closely with business owners to help them plan activities to continue to draw shoppers and diners to the district.
Part of what business liaisons will be doing is to make sure contractors coordinate construction taking place in front of individual businesses to minimize the impact.    Business owners also are being provided direct contact information for the project engineer and business liaisons who can help address any issues that arise during construction.
Excited about the enhancements being made to the Livernois streetscape, business owners look forward to the inclusiveness the redesign will provide.
"Executing this streetscape will create a sense of place for locals and tourists alike," said Rufus Bartell, Business Association member and owner of Simply Casual.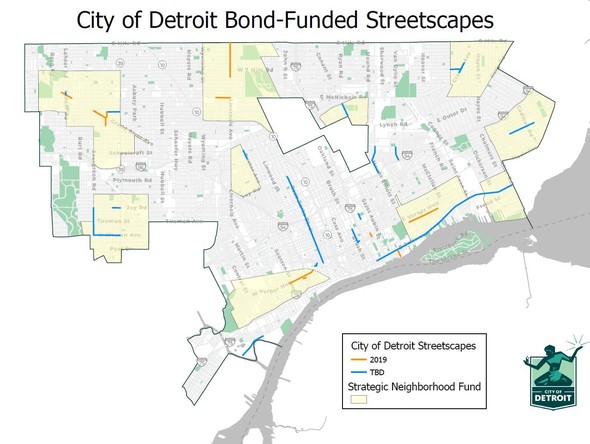 In 2019, a total of seven commercial corridors will begin construction.  They are:
Livernois from Margareta to 8 Mile
McNichols from Livernois to Greenlawn
Kercheval from Parker to E. Grand Blvd
Joseph Campau from E. Jefferson to the Riverfront
Bagley from I-96 Service Drive to 24th
Riopelle from I-75 service Drive to Division
Grand River from Evergreen to Glastonbury