City crews remove 100,000th Illegal Graffiti Tag since beautification effort began in 2014
Effort has transformed appearance of many of Detroit's commercial corridors
Consistent approach has helped change culture of illegal tagging in Detroit
City Walls mural program is helping prevent vandalism at more than 50 locations so far
Through its continued blight fighting and beautification efforts in and around the city, Detroit's General Services Department (GSD) has removed the 100,000th illegal graffiti tag since their work began in 2014.
The City's removal of illegal tags is part of an overall citywide coordinated strategy among various departments, including GSD, Detroit Police, Law Department, Department of Appeals and Hearings, Department of Neighborhoods, and the Building, Safety, Engineering & Environmental Department (BSEED). Together, these departments make up the Graffiti Task Force which, in addition to removing 100,000 tags, has arrested dozens of illegal taggers and issued tickets to the owners of vacant, neglected buildings, totaling more than $260,000 in fines, to force them to remove the graffiti at their own cost.
"While there are always going to be some pockets of graffiti tagging we have to address, the city's commercial corridors look completely different than they did five years ago, when it seemed every vacant building and many occupied ones had tags all over them," said Group Executive for Services and Infrastructure, Brad Dick. "Now the city is adding to its commercial corridor beautification efforts by placing murals, removing overgrowth and in many cases building beautiful new streetscapes."
The General Services Department is now staffed with 4 teams who not only prep and remove graffiti from various structures, but also paint over graffiti that is hard to remove to clear the blight completely with the main focus on improving the public space.
Murals replacing illegal tags
One of the City's most effective approaches to eliminating and preventing illegal graffiti tags has been the City Walls Mural program. Through the program, property owners struggling with repeated graffiti tags and blight tickets have an opportunity to donate their walls to the program for a mural to be painted to satisfy the remediation portion of the ticket.  The program also has beautified several public properties along commercial corridors, such as road and bridge viaducts, that historically have been targets for graffiti vandals.  Research and now experience shows that murals are an effective deterrent to illegal vandalism. Since its creation in 2017, City Walls has provided a cost savings of $229,449 when compared to the cost of removing the graffiti.
The goal of City Walls is to beautify the community by creating attractive pieces of public art that will deter illegal taggers from repeating the offense. Through City Walls, the City has commissioned and helped facilitate the creation of over 65 murals including 11 viaducts across Detroit.
"Our crews continues to comb neighborhoods and commercial corridors to ensure all illegal tags are removed," said Zachary Meers of GSD. "With contributions coming from so many different departments in a joint effort to beautify the city, I believe there is a real tangible change that can be felt in our public spaces."
World-renowned Detroit mural artist Sheefy McFly, a resident Blight Abatement Artist of the City Walls program, has been tapped to paint a mural on the Holden viaduct.  Working with community member Matthew Naimi of the nearby Recycle Here! Center, the site of the 100,000th tag being removed, will soon become another of Sheefy's masterpieces. McFly said he expects to start work this paint season, and if the weather cooperates complete the new mural before the winter closes this paint season – which is the 45th mural to be installed under the City Walls program this season.
"My mission as a Detroit muralist is to be a example to aspiring artist in moments of triumph as well as adversity. Being in City Walls has given me a platform to use Detroit as my sketchbook as well as bring art issues to the forefront of what needs to be improved on to support Detroit Muralist/Artist in their own hometown. I like that I'm bringing artistic conversations and good energy to inner city neighborhoods, being able to speak directly to native Detroiters young and old. The Holden Viaduct is a challenge because of the pipe in the middle but as long as I'll have the right supplies I can execute the mural properly."
-Sheefy McFly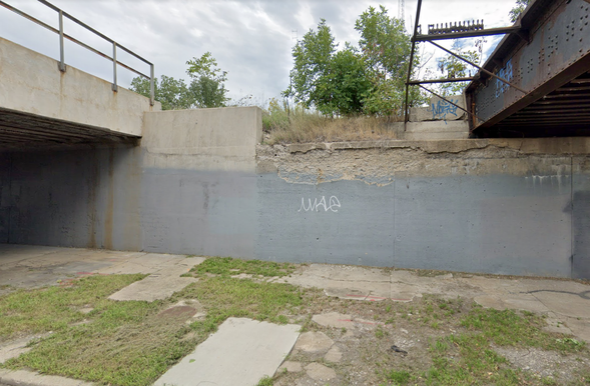 Perez – After