City to allow residents with expiring NEZ Homestead property tax reductions to receive new ones
DETROIT, Michigan – Thousands of Detroit homeowners concerned about the looming expiration of Neighborhood Enterprise Zones Homestead (NEZ Homestead) certificates can breathe a sigh of tax relief: The City will allow residents to apply for new certificates to continue their tax reduction.
Between 2006 and 2008, 52 NEZ Homestead Districts were created as a tool to stabilize neighborhoods and facilitate investment in single-family homes. The goal was to provide a tax incentive for homeowners to fix up their homes, encouraging neighborhood stability and long-term homeownership. In 2018, for example, homeowners with an NEZ Homestead Certificate saw an average $400 annual property tax savings. The 15-year abatements are scheduled to phase out over the next five years, which would force property tax bills up significantly.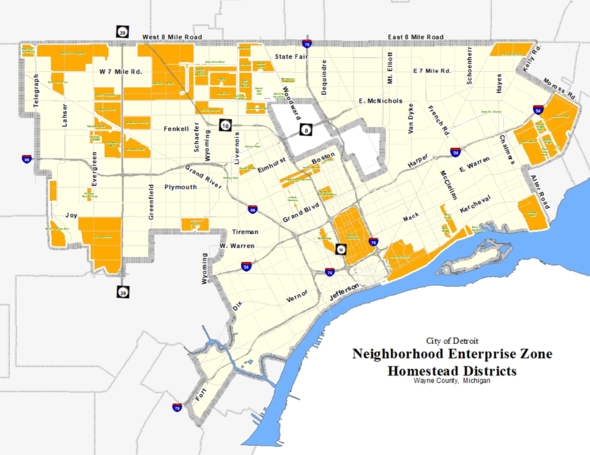 Allowing homeowners to receive new NEZ Homestead certificates is part of Mayor Mike Duggan's strategy ensure that Detroiters who stayed in the city's neighborhoods can afford to stay as revitalization spreads. The City also is in the process of developing a single family housing strategy to help residents stay in their homes, improve their homes, and become homeowners. The NEZ Homsteads are an important tool in this effort.
"We've been hearing from residents who were concerned their homes suddenly won't be affordable when their NEZ expires," said Interim Chief Financial Officer, Dave Massaron. "After a great deal of legal analysis, we determined the city has the authority to approve new Homestead certificates so these residents don't have to worry about being priced out of the home they own."
Notices being mailed
The city's Office of the Assessor is sending letters to 2,800 residents whose certificates will expire in the next five years to inform them of the opportunity to apply for a new NEZ-Homestead certificate when their certificate expires.
Additionally, the Assessor is sending out letters to 1,842 homeowners who live in NEZ Homestead Districts, but have not yet applied for a certificate. With a certificate, these homeowners could see a reduction in their taxes for the next 15 years. For example, a homeowner on Muirland Street in University District could see their taxes reduce by $945 and a homeowner on Whitcomb Street in Winship could see their taxes reduce by $256.
Chris Johnson, a resident of the Bagley neighborhood in northwest Detroit, greeted news of the ability to receive a new NEZ Homestead certificate with excitement. Johnson, who has lived in Detroit since the early 1970s, purchased his home in Bagley in 2010 but was not aware he was eligible for the NEZ tax abatement. He and his family plan to take advantage of the new opportunity being offered by the City to reduce his taxes for the next 15 years so they can use the money to improve their home.
"This is great news for us and for a lot of other Detroiters," said Johnson. "My wife and I installed new windows on the first floor of the house last year and the tax savings will help us to pay for new windows upstairs."
NEZ-H eligibility and application process
Under the state law, homeowners in NEZ Homestead districts who commit to spending at least $500 to upgrade their homes are eligible for a 15-year reduction in the property tax millage they pay; the tax credit applies only to the value of the homeowner's house, not the land it was built on.
Homeowners whose NEZ Homestead certificates are expiring are eligible to apply for new certificate, provided they meet qualifications including committing to the minimum amount of home improvements.
According to the City Assessor's Office, homeowners are eligible if they:
· Purchased their home after Dec. 31, 1996.
· Own and occupy your home as their primary residence.
· Have filed a Principal Residence Exemption with the City of Detroit.
· Commit to at least $500 in repairs and/or investment in the property.
Homeowners interested in applying for an NEZ Homestead exemption can go to www.michigan.gov/propertytaxexemptions for an application. The forms are also available at the City of Detroit's Office of the Assessor in Room 804.
NEZ New and NEZ Rehab property tax abatements provide an exemption for the development and rehabilitation of residential housing. NEZ New and Rehab Certificates are based on large one-time projects; consequently, existing New and Rehab Certificate holders cannot apply for another New or Rehab certificate. If homeowners with expiring NEZ New and NEZ Rehab certificates live in a NEZ Homestead District, they may be eligible for an NEZ Homestead certificate.