Group Executive for Housing, Planning and Development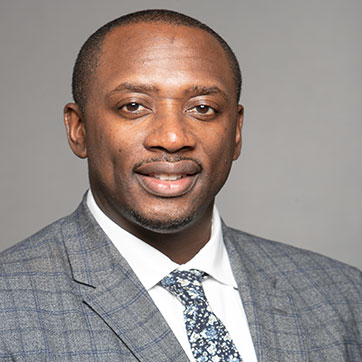 Donald Rencher
Donald Rencher serves as the Group Executive of Housing, Planning and Development.
Donald is responsible for expanding, coordinating and increasing collaboration among key City departments and agencies, including Planning & Development, Housing & Revitalization, and Arts & Culture. He will lead the City's efforts to coordinate with the Bridging Neighborhoods program and independent agencies with which the City works most closely, including the Detroit Housing Commission. He also will oversee the Strategic Neighborhood Fund, and will continue to oversee the Affordable Housing Leverage Fund, which focuses on investing in the preservation and creation of affordable housing in neighborhoods across the city.
Rencher has been with the City since 2015, and worked to develop inclusive housing and neighborhood redevelopment strategies, as well as led key programs such as eviction defense, homelessness response and more. He also developed strategy and guided investment of funding from HUD for community investment and housing and economic development. He has overseen more than $500 million in investments in mixed-income housing projects in the City. Before becoming HRD director in 2018, Rencher served as the department's deputy director.
While deputy HRD director, Rencher and HRD staff helped drive the creation of the units Jemison worked to produce. Since 2018, Rencher helped the City win 19 highly competitive Low-Income Tax Credit (LITC) awards for low-income and affordable housing and oversaw the creation of an additional approximately 4,100 total units (1,000 affordable) and the preservation of over 4,100 more. Together, since 2015, over 5,100 units have been preserved; and 6,900 new units have been produced of which 1,600 are affordable.
Last year alone, despite the COVID-19 crisis, he oversaw the preservation of 683 units of affordable housing in Detroit and the start of construction on 732 additional units, either through preservation or new construction.
During the pandemic, his department helped provide 2,400 Detroit households with eviction prevention rental assistance, and the eviction prevention helpline received 18,000 calls. HRD also coordinated 4,274 COVID tests at homeless shelters, and brought online 174 additional beds and established a 125-bed COVID shelter for those afflicted.
Before arriving in Detroit, Rencher worked as a senior attorney for the Michigan State Housing Development Authority (MSHDA), where he served as lead counsel over the agency's single-family housing portfolio. He was also responsible for housing discrimination-related cases and oversaw more than 50 large-scale multifamily real estate finance transactions. Rencher has his J.D. from Western Michigan University Law School and also is a graduate of the University of Michigan.
City Council President
Off