FEMA Application Guide
Step-by-step guide on how to submit a FEMA disaster claims application
Find out the next steps in your DWSD/FEMA damage claim process with the questionnaire below
FEMA Claims Application Steps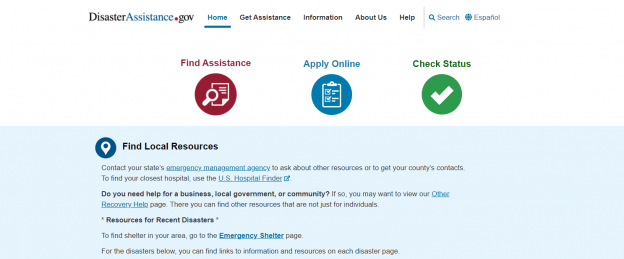 Step 1: Identification
Start the application by clicking 'Apply Online' 
Read the disclosures and click 'Next'
Accept the privacy act statement with the check box, then click 'Next'

Enter your personal information 
You will need the personal documentation you got out before starting
You will answer some questions about disabilities and language needs

Step 2: Disaster
Verify that the type of Disaster is correct
It will say "Severe Storms, Flooding, and Tornadoes that occurred on 06/25/2021-06/26/2021 Disaster Number 4607"
Choose that option
Select 'Next'

Step 3: Damage Type
Select the type of damage for your house as applicable
Enter the date - it must be either 06/25/2021 or 06/26/2021
Many people will choose 'Flood' 
You may choose 'Sewer Backup' if that applies to you

Step 4: Damage Type
Select the yes/no answers as they apply 
If your home was flooded, it was *damaged* for FEMA application purposes
When in the Losses section, select that your home was damaged
When in the Damage Extent section, choose your level of damage
Based on your selection, you may not be eligible for FEMA 

Step 5: Dwelling 

Select the answers about where you live
Choose if you are currently living in the damaged residence
Choose what type of home the residence is 

Step 6: Home Insurance

Select the type of insurance you have
If you do not have insurance but own your home, you will see an error message in red:
This is alright - do not worry!
Continue by selecting the check box below

Step 7: Expenses and Emergency Needs

Select any additional expenses as they apply to you
If you have emergency needs, select them
These are for immediate needs only
Food damaged during the event are unfortunately not covered
Visit Disaster Relief Centers for additional support
If you have no immediate needs, do not select any boxes and click 'Next' to continue

Step 8: Occupants
Add any other people living in your house
Each household can only have one person applying for all living there 
If you are a renter you can include your landlord's name here

Step 9: Business Damages & Financial Information
If you earn income from the property, indicate that here
Landlords can choose this option

Enter information about your income and dependents
Include yourself in the dependent count

If you have no dependents you will enter 1 for yourself

Step 10: ETF 
You will need to enter your bank direct deposit information
You can get these numbers from a check 
Your bank may also show these numbers in your online banking information

Step 11: Income Verification
This will show you the income you entered earlier to confirm:
If it is correct, select 'Next'

If you get Social Security, Pension, Unemployment, Disability, Welfare, Child Support or other benefits:
These need to be included in your total income
If you need to change the income to include these, enter the correct total number on this page

Step 12: Correspondence Preferences
This is how you want FEMA to contact you:
You can choose your language between English and Spanish
Choose whether you want to mail or e-mail

Make sure your contact information is correct (it should be there from what you entered in the Identification section earlier)

You can also choose to get text messages
Make sure your phone number is correct and agree to the terms
You will get a confirmation text after submitting your application

Step 13: Review
You're almost done - this is the final step!
You must agree to FEMA's terms in order to submit 
Read the information you have filled in and make sure everything is correct

Step 14: Submit
Hit the submit button!
Answer the personal questions as quickly as possible (you must finish in less than 7 minutes)

This information is pulled from public record
Sometimes the correct answer may be 'None of the above'

You are now registered!
Hit the submit button again!
Make sure to write down and save your Registration ID Number - You will need it later

What comes next?

FEMA will confirm that you have submitted 
You will get a text or email about 1 hour after submitting with a FEMA ID #

A FEMA inspector will call you to schedule a visit
This will happen a few days after submitting
Agree on a day/time with the inspector that works for you

A FEMA inspector will come to your house
They will come to your home to look at the damages but may not come inside because of  COVID-19
You will need a photo ID
You will be asked to sign something about your U.S. citizenship/residence status
You will need to show proof of ownership or occupancy with your name and address 

Examples for homeowners: tax bill, mortgage, deed/title, insurance policy
Examples for renters: lease, rent receipts, utility bill, pay stub, state ID, bank/credit card statement

Follow Up
To check the status of your application, or to notify FEMA of any change to your mailing address or contact information, please visit https://www.DisasterAssistance.gov and select Check Your Application Status or call FEMA's Helpline at 800-621-FEMA (3362)

If you are Denied:
This is not the end - you can appeal within 60 days!
This may happen for a number of reasons and you can correct errors or submit more information 
Seek help - visit a Disaster Recovery Center or call 800-621-3362
If you are Denied:
Read your denial letter and identify why you were denied 
Gather documents and evidence for your appeal
Write an appeal letter
File your appeal letter along with your documents online or at the Disaster Recovery Center. 
FEMA makes a final decision within 60 days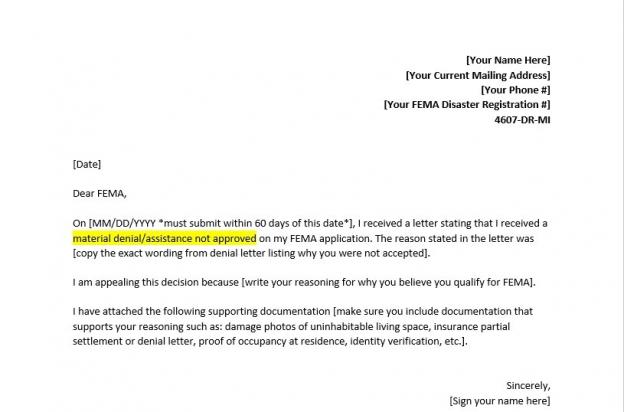 Other organizations that can provide support:
MDHHS
Red Cross
City of Detroit Community Health Corps
Wayne Metro Community Action Agency
United Way
You can visit these at the Disaster Recovery Centers:
Kemeny Recreation Center (2260 S. Fort Street)

Monday - Saturday 9AM - 7PM 

Salvation Army (3000 Conner Street)
Monday - Saturday 9AM - 4PM