FEMA, SBA & Disaster Food Assistance
Eligibilities and Instructions for DWSD/FEMA/SBA Claims & Disaster Food Assistance
Find out the next steps in your DWSD/FEMA/SBA damage claims process with the questionnaire below
The deadline to apply for FEMA individual assistance for those impacted by June 25-26 ended on November 12, 2021.
Disaster Food Assistance Benefits
MDHHS will begin the application period for D-SNAP (Disaster Food Assistance) benefits on Thursday, August 12, and will operate until Thursday, August 19, excluding Sunday, August 15. MDHHS will accept applications from 8AM to 6PM  (8AM-9AM reserved for seniors and disabled residents) on weekdays and from 8AM to 1PM on Saturday, at the following locations:
Ypsilanti Middle School –510 Emerick Street, Ypsilanti, MI 48198
Scarlett Middle School – 3300 Lorraine Street, Ann Arbor, MI 48108
Taylor District MDHHS – 25637 Ecorse Road, Taylor, MI 48180
Inkster District MDHHS – 26355 Michigan Avenue, Inkster, MI 48141
Grandmont District MDHHS– 17455 Grand River Avenue, Detroit, MI 48227
Conner Service Center MDHHS - 4773 Conner Street, Detroit, MI 48215
Southwest Service Center MDHHS – 2524 Clark Avenue, Detroit, MI 48209
Greenfield/Joy MDHHS – 8655 Greenfield Road, Detroit, MI 48228
Some Eligibility Criteria (full list in the attached flyer):
Individuals who currently receive food assistance are not eligible. Only households that reside within the approved county at the beginning of the benefit period are eligible to apply (Wayne County and Washtenaw).
Households that experienced food loss alone as their only disaster expense are eligible to apply.
How To Apply (Disaster Food Assistance Application Instructions)
If you experienced Flood Damage on June 25-26, you have these options for making claims for assistance
Homeowners Insurance
DWSD Claims (deadline August 9, 2021)
GLWA Claims (deadline August 9, 2021)
FEMA (deadline November 12, 2021)
Small Business Administration (SBA)
Homeowners Insurance
If you have insurance, you must file a claim with your provider.

Even if you have insurance, they may not cover all of your damage from this event. Check to see the specific flood damage coverage you have.  

If you have coverage and FEMA denies you, you can appeal.
If you're covered, you should see something like this in your policy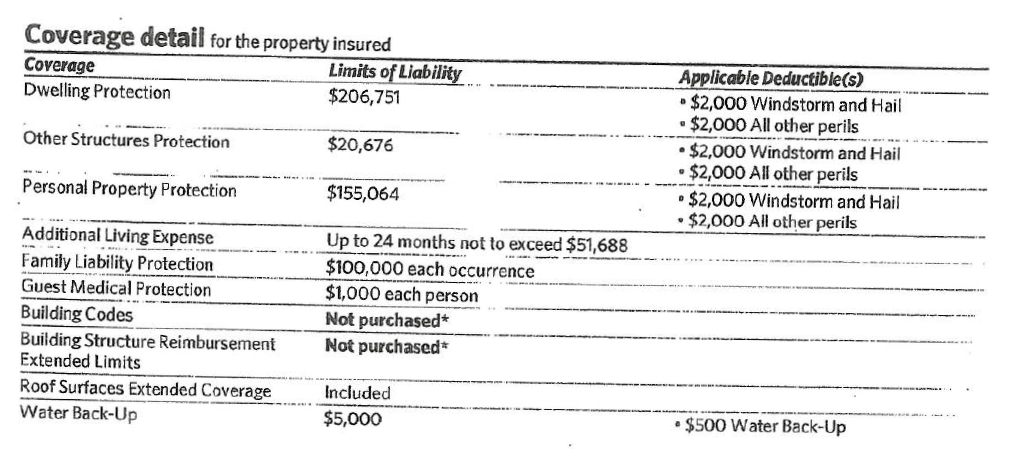 Give notice to DWSD within 45 days of discovery of damage with:
Your name, address, and telephone number
Address of your damaged property
Date of discovery and a brief description of the claim
For the June 25-26 rainstorm, claims must have been filed by August 9, 2021
You can also file for damages from later storms, within 45 of those dates
You need to complete BOTH a short-form and a long-form
After giving the notice to start the process you need to file a complete claim
Fill out the long form for the claim to be investigated
You will be mailed this or can access it online at https://detroitmi.gov/waterdamageclaims
Documents you will need:

Requires details of incident and damages claimed
Proof of homeowner's insurance coverage 
Instructions to provide receipts and photo
DWSD Investigators inspect sewers and infrastructure in the area
If DWSD determines:
There was a defect in the local sewerage system
That DWSD knew or should have known about
That we failed to remedy in a reasonable time
The defect was 50% or more the reason for damages
If DWSD determines it has liability, we will review damages not covered by FEMA and may offer a settlement. 

GLWA
GLWA follows a very similar process to DWSD for Claims.
You have to print out a long-form
Fill the form in, and submit it postmarked by Aug. 9
Mail it to: 
Great Lakes Water Authority

Office of the General Counsel: 735 Randolph St. Detroit, MI 48226
If GLWA determines it has liability, it will review damages not covered by FEMA and may offer a settlement. 
 
You are eligible to apply for FEMA Individual Assistance if:
You were affected by the June 25-26 floods 
Your property has areas that became unsafe to occupy and live in
You have a Social Security number OR a minor child in your household has an SSN 
Before You Start

If you have insurance:
Check your policy to determine policy coverage
Save a copy of your policy (you will need it with FEMA application)
File a claim with your insurance company
If your claim is denied, save the denial letter (to use with FEMA)
If your claim is partially covered, but less than your damages, save the settlement letter (to use with FEMA)
If you are still waiting on your claim approval, save a copy of the policy and claim (to use with FEMA)
Continue to FEMA Application
Get your personal documentation together, you will need:
Your Social Security number
Your current mailing address
The address of the damaged property
A description of the damages (including pictures)
Your insurance information (if applicable): agent name and policy number
Your phone number

There are 3 types of funding support
Apply for all 3 of these (as applicable) at the same time:

1. INSURANCE
Whatever your policy covers (Most people don't have flood coverage, which means you're more likely to be eligible for FEMA or SBA assistance)
2. FEMA INDIVIDUAL ASSISTANCE
Can cover personal necessities for self and living day-to-day
Need to apply as soon as possible - before November 12
A step-by-step guide on how to submit a FEMA DISASTER CLAIMS APPLICATION can be found HERE
3. SBA Loans
FOR EVERYONE (Not just businesses)
Do not need to take the loan, but you need to apply if asked to 
Can use to replace physical property
A Step-by-Step guide on how to submit the SBA home and personal property loan application can be found HERE
First Steps
To start, use one of these 3 options:

A step-by-step guide on how to begin the FEMA CLAIMS APPLICATION can be found HERE

A step-by-step guide on how to begin the SBA home and personal property loan application can be found HERE
Other organizations that can provide support:
MDHHS
Red Cross
City of Detroit Community Health Corps
Wayne Metro Community Action Agency
United Way
FEMA Total IHP(Individual & Households Assistance) Award by District
District 1: $ 3,208,491
District 2: $ 2,571,507
District 3: $ 4,571,590
District 4: $14,796,086
District 5: $ 3,419,758
District 6: $ 4,897,096
District 7: $ 9,130,492
City-Wide Total IHP Award: $ 42,595,021